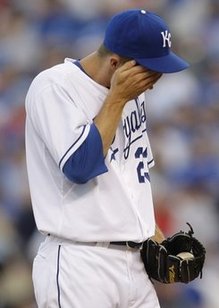 It's the obvious storyline after Friday's 10-3 loss to the Twins. Greinke allowed four runs — two earned — over five innings while walking five and striking out five. The five walks were the most Greinke had allowed in a start since June 13, 2008.
Through his first three starts this season, Greinke has allowed 10 runs — seven earned — over 17 2/3 innings (3.57 ERA). He didn't give up his seventh earned run last season until May 26 — in his 10th start of the year. Greinke gave up back-to-back home runs in his last start against the Red Sox. He didn't give up his first home run last season until June 5 — his 12th start of the season.
Greinke tells Bob Dutton of the Kansas City Star that his early ineffectiveness could be due to a failure to execute his game plan:
"I think my mind is just not right on how to pitch," he said, "because
every game I've been able to throw the ball close to where I wanted (to
throw it). I'm just not getting the job done.

"It could be, a
little bit, just not executing the pitches. But I think my game plan has
been wrong. Some of the pitches are not really sharp, but they're good
enough to where I should, at the very least, be able to pitch deeper
into games."
I'm confident that Greinke will be just fine moving forward, but it's no stretch to say that he could be battling two exterior factors right now. One, the pressure to be perfect knowing that his joke of a bullpen could cough up a lead and at any moment. And two, trying to pitch with the knowledge that his start to the '09 season is an impossibly difficult act to follow.