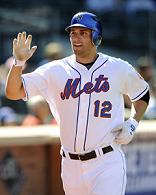 According to MetsBlog, last night on ESPN's Baseball Tonight, host Seth Everett said Jeff Francoeur, John Maine, Jose Reyes and Johan Santana were unhappy with manager Jerry Manuel. This forced Francoeur to issue a denial before Saturday's game against the Cardinals, via Adam Rubin of ESPNNewYork.com.

"We're 10 games into the season. We've lost a lot of close games,"
Francoeur said. "We're behind Jerry 110 percent. Are you always going to
agree with everything a manager does? No. Nobody does. At the same
time, he's our manager. He's a guy that has fought for us, stuck up for
us through a tough offseason, through this time. We're here for him at
this point to stick behind him because he's the guy we want leading us
out there."
I hope Francoeur learns his lesson here. Earlier in the week he told reporters that he would like to see Jose Reyes remain as the leadoff man as opposed to batting third. It's a reasonable opinion to have, but he should have had the presence of mind to realize that the press would run with the story, positioning it as though he was questioning his manager's authority. It's really a frivolous storyline when there are many other aspects of Manuel's decision-making that are fair-game for criticism.