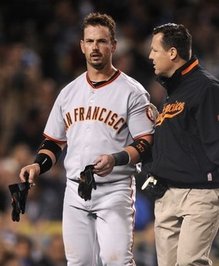 Aaron Rowand sustained two small fractures in his cheekbone and a mild concussion after being hit in the helmet by Vicente Padilla during the fifth inning of Friday's game against the Dodgers.
Padilla's history as a headhunter is well-documented, of course, but he denied that he threw at Rowand intentionally, via Dylan Hernandez of the Los Angeles Times.
"I threw inside and the pitch ran in on him. He
was right on the plate…"

"With that kind of lead, there was no reason for
me to start a conflict."

For what it's worth, Giants manager Bruce Bochy doesn't believe Padilla was in a situation where he would hit a batter intentionally, reports Henry Schulman of the San Francisco Chronicle.

"In that situation, he's in a jam," Bochy said. "You're always going to
wonder what the intent was. Certainly in that situation, that's not when
a pitcher is going to hit somebody."
Bochy said that he was unsure whether Rowand would require a stint on the disabled list, though it's pretty hard to believe he'll be able avoid it.