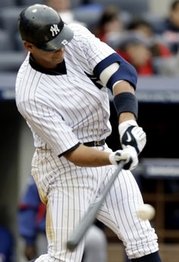 Alex Rodriguez connected for his 584th career home run during the bottom of the fourth inning on Saturday afternoon against the Rangers, passing Mark McGwire for sole possession of eighth place on the all-time home run list.
Rodriguez, who turns 35 in July, was homerless in his first 41 at-bats to begin the year, his longest such home run drought to start a season since needing 48 bats to hit his first major league home run as a 19-year-old in 1995.
Should Rodriguez avoid the disabled list, it's not unreasonable to expect he will surpass Frank Robinson (7th place — 586 home runs) and Sammy Sosa (6th place — 609 home runs) this season, leaving him just outside the top-five all-time.
Speaking of history, Jim Thome launched his 566th career home run in a 6-5 win over the Royals on Saturday afternoon. He is currently 12th on the all-time home run list, breathing down the neck of Rafael Palmeiro (11th place — 569 home runs) and fellow Twinkie Harmon Killebrew (10th place — 573 home runs).