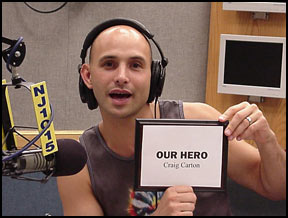 So yesterday Craig Carton and Boomer Esiason of 660 WFAN went crazy on me for calling Yankees fans "classless and ignorant" for booing Javy Vazquez on Wednesday. The audio of that is here, beginning at around the nine minute mark.  It starts with Carton calling me a "jackass" and it goes downhill from there.  Good times!
Always a fan of great theater, I decided to call in to the show this morning.  I had no illusions that Carton would change his mind on the matter, and he most certainly did not. But rather than defend the booing on the merits — which I don't think even he can — he decided to unload on me for being a blogger, not having a journalism background and all of that. Anyone who follows the media very much knows that's the last refuge of someone with no argument, but there he went anyway. When I told him that Mike Lupica has a journalism background and he sucks he pulled a Francessa on me and hung up. Great theater — and basically what I expected — but telling all the same.
Carton's main point from yesterday — that it's the God-given right of Yankees fans to boo whoever they want to — is absolutely correct. But he has no answer for the notion that you look totally bush league when you boo a guy over six year-old failures six months after winning the World Series.  There are all sorts of things you can do if you want to. But just because you can do something doesn't mean you should.
All that said, I would like to thank Carton and Boomer for having me on. The easy thing to do would be to ignore me. There are things that are more fun in the world than being hammered by talk radio guys, but (a) it was actually kind of fun on some level; and (b) the worst day of being hammered by talk radio guys about baseball stuff beats the best day in a law office defending the indefensible.
UPDATE:  Here's my segment on WFAN from this morning.  I'll leave it to you to decide who comes off better.