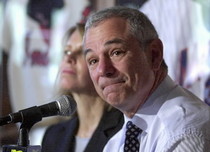 During an appearance on with Chris Russo on SIRIUS XM's Mad Dog Radio Channel on Friday, Bobby Valentine addressed recent speculation that he could replace Jerry Manuel as manager of the Mets, via Adam Rubin of ESPN New York.
"You know, the Mets are 3-6. It's nine games," Valentine said. "I mean,
let's not get crazy here. I think Jerry, I talked to him a few times
during spring training. Jerry Manuel is up for the task. I think that he
has a tough road to hoe, there's no doubt about it, and he's got to
keep his head above water until his center fielder comes back, and
obviously has to get that pitching staff in shape. But I don't see that
as being part of my future as we're speaking here. … I'm a member of
ESPN Baseball Tonight. I'm happy to be there and I'm gonna enjoy talking
about that situation, not being talked about within that situation."
I've heard Valentine get asked about a potential return to Queens dozens of times since 2002 and opposed to Gary Carter, he always answers in a diplomatic and classy way. I would expect nothing less, as he understands what it's like to hear whispers while sitting in the manager's office. I've advocated for Valentine in the past, but as Craig alluded to earlier today, Bob Melvin appears to be the in-house favorite.