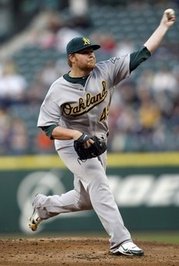 UPDATE: According to John Shea of the San Francisco Chronicle, Anderson could earn a maximum of $31 million if both option years are exercised. He's guaranteed $12.5 million over the four year contract with a $1 million signing bonus and a $1.5 million buyout. He could potentially earn $8 million in 2014 and $12 million in 2015.
7:09 pm: The Athletics inked left-hander Brett Anderson to a four-year contract through the 2013 season, the team announced on Friday afternoon. The contract includes club options for 2014 and 2015. Financial details were not disclosed.
The extension covers his final two years of pre-arbitration and his first two years of arbitration, while the options consist of his final year in the process and his first year of free agency.
Anderson, 22, was 11-11 with a 4.06 ERA, 1.28 WHIP and a 150/45 K/BB ratio in his rookie campaign with the Athletics last season, emerging as one of the most promising young left-handers in the game. He's already off to a fantastic start this season, tossing 12 scoreless innings to begin his second year in the bigs.
There's obviously a bit of an injury risk attached with any young pitcher, especially one who threw 175 1/3 innings in his first major league season, but the Athletics could save millions in the long run.