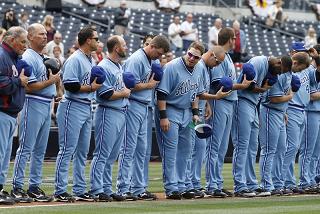 Braves 6, Padres 2: Throwback uniform day at Petco. San Diego's throwbacks were fairly hideous. Many people lump all of their yellow and brown uniforms together, but there were many variates working off that color scheme. Some were pretty sweet, actually. Yesterday's, not so much. As for Atlanta, I like their current classic home duds the best, but these powder blues were a nice jolt of nostalgia for me, as that's what they were wearing when I first encountered them back in the day. As for the game itself, there was some swift defense at second base as both Jerry Hairston and Martin Prado made awesome grabs. Tim Hudson labored for Atlanta, but the bullpen held firm and Jason Heyward's two RBI doubles padded the lead.
Astros 5, Cardinals 1: Somewhere in Maryland the 1988 Baltimore Orioles are gathering together to open up special bottles of champagne with which they will celebrate their historic season-opening losing streak record lasting yet another year.  Wait, that's not 100% accurate. They don't gather; they drink alone. And it's not champagne, it's Cold Duck. Warm Cold Duck.
Mets 5, Rockies 0: Seven innings of five-hit shutout ball from Mike Pelfrey, and then two scoreless innings from the pen give the Mets a much needed win. The runs scored on a wild pitch, two fielder's choices and a couple of singles, but that hardly matters when the other guys can't score to save their lives.
Twins 8, Red Sox 0: Francisco Liriano is back, my friends. Eight strikeouts, four hits, two walks and a big goose egg for the Sox while throwing an utter economy of pitches. David Ortiz sat for Boston and with the way Liriano was dealing, that was probably a good idea.
Indians 3, Rangers 2: Like I said yesterday, this one was done in a minute and a Huff. Or at least it seemed like it. Tough luck loss for Matt Harrison, who had a shutout going into the eighth before his defense betrayed him, with errors by Michael Young and Elvis Andrus allowing the baserunners who scored when Choo hit his three-run bomb.
Nationals 7, Phillies 5: A day after the Phillies pen saved the day with nearly a full game's worth of work, it should be expected that they would run out of gas (though maybe we don't get to the pen so early if J.A. Happ doesn't walk six batters). The Phillies led 4-1 after six, but the Nats chipped away with homers from Adam Dunn and a pinch-hitting Ryan Zimmerman and RBI singles from Ian Desmond and Ivan Rodriguez.
Marlins 10, Reds 2: The story on Aaron Harang this year is that after a couple of years of injuries, he was supposed to be all healthy again and ready to be the workhorse again. Right now he looks ready for the glue factory (4 IP, 10 H, 8 ER). Jorge Cantu had both a hit and an RBI for the tenth straight game. I'm sure I'll one day tell my grandkids about where I was and what I was doing when it happened.  Ten strikeouts for Josh Johnson.
Blue Jays 7, White Sox 3: Dana Eveland allowed two runs and three hits in six innings.  He also truly entered my consciousness for, I think, the first time. I mean, on some level I knew he was an A's starter last year, but if you had asked me really quickly who "Dana Eveland" was this morning, I would have been just as likely to guess that it was an actress from back in the 40s who used to play second banana in musicals and light comedies. Maybe she was with Warner Brothers but was loaned out to MGM on occasion. That sort of thing.  This is what happens when you rarely watch west coast games.
Brewers 8, Cubs 6: Ryan Braun went 4-5 with a homer and three RBI on a day when the Wrigley wind was blowing out at 18 m.p.h.
Yankees 6, Angels 2: Phil Hughes gave up two runs over five innings and picked up the win in his 2010 debut. Two homers for Cano, two triples for Granderson and a more or less unnecessary save for Mariano Rivera. Oh, and the Yankees fans did the wave during this game, which pretty much undercuts all of their protestations about how savvy and knowledgeable they were in the wake of the Vazquez booing criticism. The wave. In Yankee Stadium. Inexcusable.
Athletics
6, Orioles 2: Ben Sheets has been ailing, but the Orioles are the
sort of team that can cure what ails you. Six shutout innings for
Sheets, who gets his first win since 2008. The Orioles kick of a ten
game road trip with this loss. The way they're playing it's going to
feel even longer than that.
Dodgers 6, Diamondbacks 5: Chad Qualls with his second straight blown save, though this time his defense let him down, with Stephen Drew throwing away what would have been out number three (and I mean really throwing it away). Don Newcombe threw out the first pitch. Yesterday I linked to what I thought was the worst baseball song of all time. It's worth noting that one of the better ones is called  "Strike One." It's a jump blues number by Teddy Reynolds. Another one is "Newk's Fadeaway" by Sonny Rollins. Both can be found on the most excellent baseball episode of Bob Dylan's "Theme Time Radio Hour," which you can get on CD if you're so inclined. Tons of non-Creed baseball songs there.