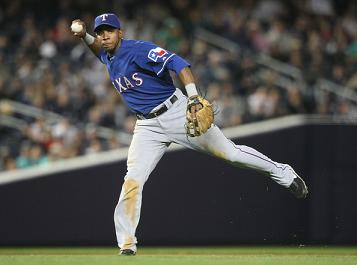 FOX's Tracy Ringolsby writes today about just how big the Mark Teixeira trade was for the Rangers. As a Braves fan it pains me to no end, but the cold hard facts of it all must be repeated whenever possible:
With Teixeira slightly more than a year from reaching free agency, the
Rangers dealt him on July 31, 2007 to Atlanta for Elvis Andrus, who has become Texas' shortstop; right-hander Neftali Feliz, the closer; left-hander Matt Harrison who is in the rotation; catcher Jarrod Saltalamacchia, currently on the disabled list, and minor-league
pitcher Beau Jones, the No. 1 draft pick in 2005.

The addition of that group of players pumped life into a Rangers farm
system that was shaky at the time, and provided a foundation for a young
core for the future. Atlanta, meanwhile, kept Teixeira for 363 days and
dealt him to the Los Angeles Angels for minor-league pitcher Steve
Marek and first baseman Casey Kotchman, who in turn was dealt a year later to Boston for Adam LaRoche, who left
last fall as a free agent.
In my nearly 25 years of Braves' fandom, this is the only trade that I truly would take back if I could. All of the others either came out in the wash or were mixed bags. This one was an unmitigated disaster and will haunt Braves' fans for a long, long time.
But you don't care about my team. The reason I bring it up is because later this year the Padres are going to trade Adrian Gonzalez. When they do, people will moan about big markets and small markets and all that jive.  When they do that, remember the Mark Teixeira trade, because it's totally repeatable.
Remember: the Braves are a team that, historically speaking, appreciate the
value of young prospects and rarely if ever part with the ones who they
think are going to make something of themselves. Quick: apart from this trade, who was the last guy they traded away who really came back to bite them? Maybe Jason Schmidt, but it's not like he was needed at the time. Jermaine Dye? Same deal.  The list is so short it's almost not worth making a list.
But they got burnt here, partially because someone in Atlanta had a brain lock and partially because there was a sharp GM on the other end of the deal in Jon Daniels.
There's a sharp GM in San Diego now too in Jed Hoyer. All he needs to make the Adrian Gonzalez deal pay off is for one of the 29 other GMs to have a brain lock themselves.