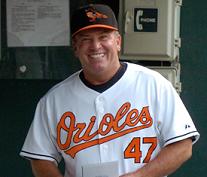 How do you know that? Because people who know things — people like Ken Rosenthal — are talking about who should replace him.  Rosenthal's choice: Phil Garner. He notes that Andy MacPhail interviewed Garner when MacPhail was president of the Cubs.
I was rather surprised that Trembley was even brought back for 2010. He's a nice fellow and someone you might want to have around when young players first break into the bigs, you know, so as not to scare them or something, but there's a fine line between being a friendly welcoming face and perpetuating, however inadvertently, a culture that everything's OK, win or lose. If Trembley has motivational skills they've eluded everyone who watches and writes about the team. He reminds me of a more sedate Ned Yost if such a thing is possible.
Firing the manager is always an exercise in scapegoating to some degree, but the Orioles don't want for talent at the moment. It's too early to expect them to contend, but it's not too early for them to be playing sharper baseball, and it's never a good time for them to be comfortable with losing, which many Orioles fans think this team is quickly becoming.
Is Phil Garner the answer? Eh, I was never a big fan of his, and there's a danger in overreacting by bringing in rah-rah guys like him and Larry Bowa and their ilk.  But it's not like anyone expected Trembley to still be around when this team finally does contend. To the contrary, even if the team was doing better right now, he'll long have accepted a roving instructor or special assistant job within the organization by then for being the dutiful organizational solider he has been, having been replaced by a guy with some experience with a winning team.
And really, something has to change in Baltimore, if for no other reason than to give the fans something to care about for a while.