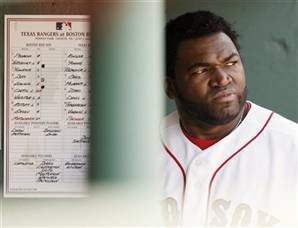 According to ABCNews.com, hip-hop mogul Jay-Z (and his associates) filed a suit Thursday in Manhattan federal court accusing Red Sox first baseman David Ortiz of "marketplace confusion and damage" for opening a "Forty/Forty" night club in the Dominican Republic.
Jay-Z owns like-named "40/40" clubs in New York City, Las Vegas and Atlantic City along with business partner Juan Perez. 
"David Ortiz is fully aware of plaintiff's Manhattan 40/40
Club, since he had been a patron there on several occasions long before
he opened his infringing Forty/Forty Club," reads the suit.
Jay-Z is well known for being a Yankees fan, and even claims to have made the "Yankee cap more famous than a Yankee can," in the criminally overplayed "Empire State of Mind."  There's probably a joke to be made here about New York pulling a fast one on Boston, or the Red Sox copying off the Yankees yet again, but this story really is plenty funny all by itself.  And Big Papi is struggling enough at the plate.