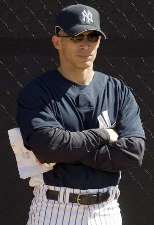 MLB.com's Barry Bloom sat down with Hal Steinbrenner recently. During their conversation Little Stein, after first reiterating that he doesn't do contract extensions until the current contracts actually end, strongly suggested that Joe Girardi isn't going anywhere:
"Quite frankly, I had a talk with him," Steinbrenner said. "I said,
'Joe, this is something you can't take personally. It's something I've
never done. It's something I don't believe in, and I don't believe in
making exceptions. But I can't imagine this team without you. So know
that.' And he was fine with it. It is what is.

"I hope everybody is reasonable and we can work it out easily. But
there's no doubt I want them here."
The "them" refers to Derek Jeter and Mariano Rivera, who also are winding down their current contracts. But no one really doubted that they'd remain in the fold. There's always a chance, however, that Girardi wouldn't be back, either because the team disappoints or because he asks for too much money or what have you. These quotes, however, make it sound like Girardi is going to be around regardless.
Which makes sense. If this Yankees team doesn't have a great year, it's not very likely that it will be due to something Girardi does or doesn't do. It will be because of injuries or one of the older players finally feeling his age or something like that.
Girardi is a good company man. He deals with the scrutiny from the press pretty well.  The players seem to like him. He hasn't mishandled the assets he's been given to manage. Those are the most important traits for a New York Yankees manager. He deserves a new deal in my mind.