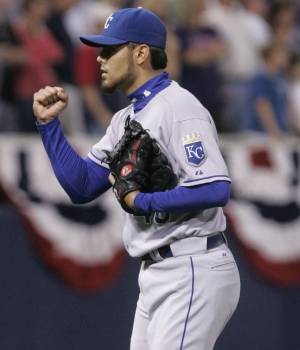 I and many others wondered why Trey Hillman never called Joakim Soria from the pen during the team's seventh inning meltdown on Tuesday. He tried to explain himself yesterday:
"There's a thought there, but, No. 1, it's a very
unusual time for Joakim Soria to pitch in a ballgame. No. 2, you've
still got those same bats coming up in the ninth in a higher-leverage
situation — because it is the ninth, even if there are no runners on
base."
How on Earth is the ninth inning — with no runners on base, mind you — a "higher-leverage situation" than an inning in which the other team is running laps around the bases and your pitcher is bleeding like he took five to the chest? I read this quote from Hillman and I honestly think that he doesn't understand baseball. That he believes games can only be won or lost in the ninth inning, because it's after that inning that the official scorer technically declares one team the winner.
And so what if the seventh is "an unusual time" for Soria to pitch? He's your closer! You just said you keep him around for the highest leverage situations!  If you're paying the guy to handle the worst of the worst certainly he can be expected to adjust to appearing in the seventh instead of the ninth.  Anything else, Trey?
"I'm not saying that's so far-fetched that we might not have to try
that. But . . . I don't blame any frustration among our fans in watching our
games. I don't blame them at all. Smoke is coming out of my ears, and
my hat is blowing off, too."
That smoke is coming out of his ears shocks me, because there's certainly no evidence that the Victorian-era diesel generator that is apparently Trey Hillman's baseball mind is operating at all.
Look, I'm picking on Hillman here because he's the most recent example of this, but the fact is that no one in baseball optimizes their bullpen. The Mets could have and should have had K-Rod in the game in the tenth last night instead of Mejia, but they didn't, because some sort of orthodoxy has developed that you can't possibly use your closer in a non-save situation. Instead, Jerry Manuel had a 20 year-old kid pitching in extra innings at altitude instead of his relief ace.
And that's the key, really: the names we call them. Relief pitchers used to actually be called "relief" pitchers because they'd provide relief when needed. Sometimes they were called "firemen" because they put out fires.  Now? We call them "closers," and "setup men." This nomenclature, which designates when they pitch temporally rather than situationally is evidence of the problem. Just like that stuff about the contract walk years a few minutes ago, our brains — managers' brains — have grown comfortable with the way they use their reliever because, gosh, we already have names that tell us when to use them. It's lazy and gives them the right not to think about how to win games.
The fact is, games are won and lost at any number of times. If you keep your best relief pitcher — and every manager will tell you that his closer is his best relief pitcher — on his butt, waiting around for that ninth inning save, you're quite often going to find that there is nothing left to save. Trey Hillman showed us this the other day. Most managers screw this up several times a year.
At some point someone is going to win a division title they otherwise wouldn't have because they actually deployed their bullpen in a manner which best serves the team's chances of winning baseball games as opposed to a manner which best serves the rather arbitrary labels we've applied to the guys who sit down there.