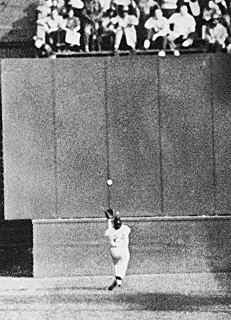 I missed this last week, but my buddy Vince Grzegorek pointed me to a two-part interview of Bob Feller from the Cleveland Plain Dealer in which the living legend disses Willie Mays' amazing catch of Vic Wertz's fly ball in the 1954 World Series:
PD: The 1954 World Series?

BF: The first thing that comes to mind has to be the Dusty Rhodes'
bloop home run.
PD: Not the Willie Mays catch against Vic Wertz?

BF: A lot of center fielders could have caught the ball Mays caught.
He put on the act pretty good; he always did. He let his hat fly off,
then threw the ball back to the infield. The ball was hit into a small
wind. The ball came down like a popup. He was playing shallow, but Vic
Wertz was the hitter, so he should not have been playing shallow.

PD: So you're not impressed by the catch.

BF: Not at all. Not at all.
Feller has a habit of saying arguably impolitic things about famous stuff that happened during his heyday. I still can't get over the fact that, when asked about Lou Gehrig's "luckiest man on the face of the Earth" speech a couple of years ago Feller said "He's wrong. I am. I'm still alive."  Yikes. But you know what? When 91 years-old you reach, so opinionated you shall be too.
As for the catch, many people think of Mays' play as the stuff of legend. But Feller was there and didn't view the thing through newsreel nostalgia. I've watched the catch as objectively as possible and I still think it's great, but it's probably worth listening to Feller about this. I'll grant that maybe he still harbors some resentment over his heavily-favored Indians team losing that Series, but it's also possible that he saw that catch a little bit differently — and a little more realistically — than the rest of us did.