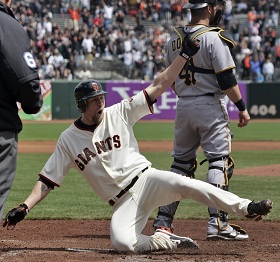 Giants 6, Pirates 0: Inside the park home run for Aubrey Huff. See it here. To say that Garrett Jones played that one off the wall poorly would be like saying that King George made some fiscal miscalculations when he increased the tax burden on the colonies to help pay for the Seven Years War. Still, nice moment for Huff, complete with the wholly unnecessary slide into home which on deck hitter Mark DeRosa signaled him to do because he correctly figured it would be hilarious.  Not as hilarious as the Pirates' attempts to hit Jonathan Sanchez, who struck out 11 while allowing three hits in eight innings. One Pirate reached third base in the whole game. He must have been lost.
Cubs 7, Brewers 6: A pretty impressive comeback for the Cubbies, who trailed 6-3 with two down in the eighth. Then both Ryan Theriot and Kosuke Fukudome hit two-run singles.  It wasn't all chips and gravy for the Cubs, though, as that earlier deficit was enabled by Alfonso Soriano's continued difficulties in left field, where he bobbled a ball and let another bounce off the wall and on past him.  He was yanked from the game by Piniella in the fifth inning and left to a chorus of boos. Geovany Soto and Prince Fielder collided at home plate in the second inning. I betcha Soto wished he still had that extra weight on him when that happened. He shook it off and hit a homer later, however.
White Sox 11, Blue Jays 1: 10,610 paid to see the game, making  it the smallest crowd in Sky Dome/Rogers Centre history. They didn't miss much. Carlos Quentin had a grand slam and six RBI. John Danks allowed only two hits in seven innings, and no one on the Jays' staff had the stones to put one in A.J. Pierzynski's ribs in an effort to help him feel what a HBP really feels like.  I hope Toronto enjoyed their nice first week, because it's a thing of the past. 2010 is going to feel a lot more like last night felt.
Marlins 5, Reds 3: Jorge Cantu went 1-4 with a homer, making him the first player in major league
history to have at least one hit and one RBI in each of his team's first
nine games. This had some media build up before the game last night, being described as a "milestone" or a "record" in various places. Deep thought: absolutely no one in the world beyond Mr. Cantu's immediate family cares about this, and I'm guessing even they are mostly just smiling politely. There are records and then there are events that that are strange and mildly interesting. This one is the latter.
Rays 9, Orioles 1: That, my friends, is B.J. Upton: 2-5, 2 HR, 4 RBI. The Orioles are now 1-8. Ed Price of FanHouse tweeted a Pfun Pfact last night. Since 1988, 15 teams have started 1-8 or 0-9. They averaged 95
losses. So the O's have that goin' for them. Which is nice.
Red Sox 6, Twins 3: There was some rain in this game. All the coverage I've seen makes a big deal out of this. Even the AP story has a ball: "Some fans scurried for the concourses and others hastily put up their
umbrellas," the nameless writer says. As if a team that plays 81 road games a year and a city that, once in a while anyway, left the Metrodome over the past 30 years finds precipitation frightening and confusing. We get it: they play outdoors now. Let's move on to another storyline.  As for the baseball, the
Sox aren't missing Ellsbury, as Jeremy Hermida hit a three run double
in the eighth. Orlando Hudson on John Lackey, who gave up two runs in six and two-thirds: "He's no pushover. You don't give ($82.5) million to a pushover."  You give it to a WHITE MAN, because baseball lives to keep the BLACK free agents down, Hudson did not add.
Eagles 14, Redskins 7: Craig Stammen and Kyle Kendrick gave up seven and six runs, respectively, in their 1.1 and 1.2 innings of work. After that the Philly bullpen restored order, allowing only one more run, while the Nats merely slowed, rather than stopped the bleeding. Some Phillies fans I know worried that Shane Victorino wouldn't take to the leadoff spot after Rollins went down. Last night he went 4-5, 3B, HR and 5 RBI from there. I think he'll be just fine, thank you. No one ever worries about Chase Utley. And why should they? He hit two homers. Charlie Manuel thought it was all really swell.
Rangers 6, Indians 2: Nelson Cruz hit his sixth homer. In the sixth inning Michael Brantley hit a double that would have easily scored three runs, but everyone was limited to two bases when a fan interfered with it — grabbing the ball with his glove — and keeping Luis Valbuena at third base. Line of the night goes to MLB.com's Anthony Castrovince: "Ironic that on a night with so few fans, fan
interference has played a role." And it was a small crowd. Smallest since the team moved into the Jake back in 1994.
Angels 5, Yankees 3: I covered the Vazquez start yesterday. Good? No. Worthy of scorn? No. The Yankees aren't going to go 162-0, and at some point their fans are going to have to come to grips with that. Especially when you face a sinkerballer who is as on as Joel Piniero was yesterday afternoon. Five hits, one run, seven strikeouts, zero walks and a grounder-to-fly ball ratio of 11-3. All you can do is shake your head, go to sleep and come back the next day and try again.
Royals 7, Tigers 3: I'm not sure what's more surprising: that Jose Guillen has homered in four straight games or that he has 200 home runs for his career. As for Detroit, they had the bases loaded and no one out with Miguel Cabrera at
the plate in the fifth and the inning ends with the Tigers scoring one run. I got a lot of heat for ranking Detroit above the Twins in this week's power rankings. Rest assured, this miscalculation on my part will be remedied this coming Monday.
Cardinals 2, Astros 1: Try as he did, Brett Myers (7 IP, 4 H, 1 ER, 7K) couldn't deliver the Astros their first win of the season, because Brad Penny had a little more (7 IP, 3 H, 0 ER, 4K). All of the run scoring came in the first inning. We're apparently entering the "God hates us" portion of the Astros early season catastrophe. Next up will likely be 17-16 game loss by Houston on a suicide squeeze play in the bottom of the ninth followed by a forfeit due to a laundry snafu.
Rockies 6, Mets 5: The Mets came back late, scoring one in the eighth and ninth to tie it, but didn't capitalize when they had runners on second and third in the tenth. Jenrry Mejia only got a chance to throw four pitches in the tenth, the fourth of which resulted in a long Chris Ianetta homer.  The Mets could use this as a teaching experience for him: relief pitchers need to be able to forget what just happened and bounce back the next day and take the ball again. Sadly, Mejia should be learning how to be a starting pitcher right now, not a reliever.
Braves 6, Padres 1: Hey look! A young starting pitcher who isn't being mishandled. Tommy Hanson gave up one run and struck out seven over six innings. It took the Braves six innings to get to Chris Clayton Richard, but they got to him. The big shot, not off Richard, was a Troy Glaus three-run homer, his first of the year.
Mariners 4, Athletics 2: Jason Vargas was solid and, for the first time all year, that whole Ichiro-Figgins small-ball plan that seemed so spiffy in the offseason bore some fruit: Bunt single for Ichiro in the fifth, followed by a Figgins walk, followed by Gutierrez walk, followed by a Milton Bradley RBI single. M's fans say "more please."
Diamondbacks 9, Dodgers 7: Just your average five-lead-changes, 16-run, 4:57 affair. The Dbacks had a chance to win this one in regulation, but Chad Qualls gave up a double to Manny in the ninth, which was followed up by a Casey Blake RBI double. Chris Young was the hero, though. Matt Kemp misplayed a ball in center, allowing Mark Reynolds to reach in the 11th, loading up the bases. Young singled, driving in one and then Augie Ojeda had a sacrifice fly. Last year the Dodgers had one of the best bullpens around. Last night they had Russ Ortiz pitching in the 11th. That's a bit of a step down.