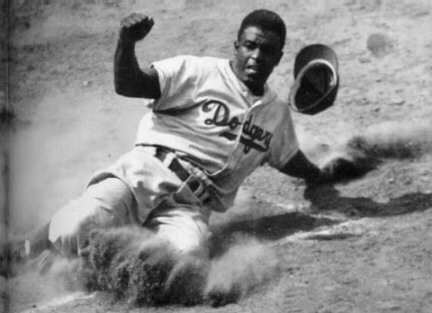 Tomorrow marks the 63rd anniversary of Jackie Robinson breaking the color barrier. Last year baseball began encouraging all players and umpires to wear number 42 in Jackie's honor. Most do it. Mariano Rivera, however, controversially refuses to change from the number he has always worn. How he doesn't catch hell for this I have no idea, but that's what happens when the media is so sick with east coast bias. I digress.
It's probably an unpopular position, but I'm rather ambivalent about 42 being retired in the first place. The Dodgers should do it because Jackie was their guy, but I always found it cool when the Mo Vaughns of the world chose to wear number 42 as a tribute.  I go back and forth on the idea of retired numbers to being with, actually. Sometimes I think it's a good idea. Sometimes I think it's rather silly. As I sit here this afternoon I'm struck by the notion that exactly no one would forget Jackie Robinson if we let someone choose to wear number 42 as an inspirational and reverential gesture.
That minor point aside, tomorrow isn't all about history. Major League baseball has tied in multiple charitable and scholarship programs both on its own behalf and in conjunction with the Jackie Robinson foundation and tomorrow will serve as a reminder and, in some cases, fundraisers for many of those programs (details here).
I like that aspect of Jackie Robinson Day much more than the solemn remembrances which, for as nice as they are, have a habit of turning Robinson into a secular saint, however unwittingly.  As a result I feel like we lose a bit more of Jackie Robinson the man every year and dive further into myth and legend. It's probably inevitable, I suppose.