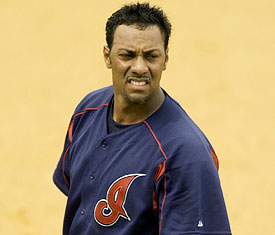 Juan Gonzalez sat for an interview with ESPNDeportes.com on Monday, during which he denied ever taking steroids, saying "I never used any of that stuff," and saying "I have nothing to hide. Nothing." This is consistent with what he said in 2005: "It's not true . . . I never saw needles. I never saw pills. I never saw
anything . . . The only guys who have put needles in my body are
doctors."
George Mitchell, you may recall, reported differently:
On the evening of October 4, 2001, Canadian Border Service officers working at Toronto's international airport discovered steroids, syringes, and clenbuterol in an unmarked duffel bag during an airport search of luggage that had been unloaded from the Cleveland Indians flight from Kansas City. Ted Walsh, the Indians equipment and clubhouse manager who was present during the search, recognized the bag as one that had been sent down to be included with the luggage by Cleveland outfielder Juan Gonzalez when the Indians left Kansas City . . .

. . . Joshue Perez, a member of Juan Gonzalez's entourage, claimed the duffel bag . . . he told [Border Service Officers] that the bag belonged to Angel ("Nao") Presinal, Gonzalez's  personal trainer, who would be arriving in Toronto on a later flight. As soon as he arrived at the hotel, Presinal was detained by law enforcement officers. In an interview at the hotel, Presinal denied that the bag belonged to him and asserted that it belonged to, and had been packed by, Gonzalez.
Gonzalez's comments about the Mitchell Report: "What does Mitchell know about baseball? He never played baseball."  Because that so clearly has anything to do with anything.
The Mitchell Report was a severely flawed enterprise, but that's simply because it was tremendously under-inclusive, gathering only the lowest hanging fruit of baseball's PED problem. There has been no credible evidence, however, to suggest that anything that was included in it was inaccurate.  More to the point, the story about Gonzalez's bag has never been refuted, and his relationship with trainer Angel Presinal — a man so steroid-tainted that baseball banned him from clubhouses even while it was turning a blind eye towards the Kirk Radomskis, Brian McNamees and Greg Andersons of the world — is problematic, to say the least.
Gonzalez's denial should be seen for what it is: a counter-factual public relations exercise. And while we're talking about him, he didn't deserve either of his MVP awards.