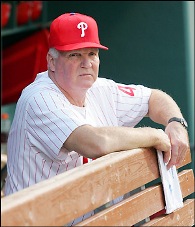 That's the clear implication from Charlie Manuel's comments on Sirius XM's Home Plate show today:
"Fella did a number on his gam, so he's gonna cheese it for a few ticks. We're gonna peep the rumpus when we get to the yard, but I ain't whistlin' Dixie when I let on that he's gonna be coolin' it. Snap my cap if I could tell ya how long he'll be off the job, but no foolin: he ain't hotsy-totsy."
Oh, sorry, I forgot to turn on the Charlie Manuel-to-modernity translator widget. Try this:
"Rollins, evidently he's got like what they call a between a 2 and 1
degree calf, kinda, tear. And he's gonna
miss some time. Actually, when I go to the ballpark – I'm on my way
there right now – we will go over what we're gonna do with him today. I
mean, he's definitely going to be out some time. How much, I don't know
yet, but he's hurt pretty bad."
It looks like Wilson Valdez will take Rollins' place on the 25-man roster.