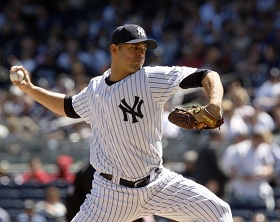 I'm not calling all Yankees fans classless and ignorant. Just the ones at Yankee Stadium today — and there were a lot of them — who booed Javier Vazquez. His line: Five and a third innings pitched, three four earned runs on six hits and a couple of walks.  Not a great line by any stretch — it's the quintessential "the starter just didn't have it today" line — but not one worthy of booing.
And to be clear: the boos weren't merely a function of him leaving in the sixth inning after giving up a couple of hits and a wild pitch: they started in the first inning. A fan at the
game tweets that fans were chanting "we want Melky" in the third inning.
I'm not the only one who thinks the fans were out of line either. The River Ave. Blues guys — Yankees fans all — were embarrassed by it.  The Post's Mike Vaccaro noted the poor form as well. And it is poor form. The man has started two games this year. These boos are almost certainly a function of people thinking back to 2004, which is amazingly weak given that, you know, the team just won the World Series five months ago. For a fan base that fancies itself so much more knowledgeable than anyone else's, this was pretty bad.
Anyone care to defend the boo-birds here?
UPDATE:  They booed Alex Rodriguez and Mark Teixeira too.  Can you say "spoiled?"