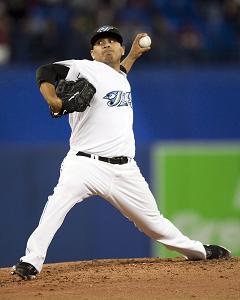 Blue Jays 4, White Sox 2: A no-hitter into the eighth inning for Ricky Romero, broken up by a two-run homer by Alexis Rios. Should it have been a solo shot? I'm not sure because I was on a plane last night when it happened and I haven't gone back and checked the video yet today, but my friend Neate Sager says that the HBP that put A.J. Pierzynski on came "on a ball that didn't even come close to hitting him."  Of little consequence, ultimately. The Jays remain at the top of the East.
Mariners 3, Athletics 0: Like I've always said: Milton Bradley is grace under pressure personified. Bradley hit a three-run homer in the eighth, just after showing bunt, because apparently he's a master of psychology or something. And those of you who had Doug Fister in the "who will be the first Mariners starter to throw eight scoreless innings this year" pool, please come forward to collect your winnings.
Tigers
6, Royals 5: Really, Trey Hillman? Your 5-0 lead is evaporating
before your very eyes in the seventh inning and you don't even think
about bringing in Joakim Soria?  You do realize, don't you, that games
can be "saved" even if it's not a situation in which a "save" is
awarded, right?  Hillman after the game: "It was disheartening,
disappointing, unbelievable and a lot of other
words that I don't want to use."  I've got some words: "Avoidable!"
"Unnecessary!"  "Self-Inflicted!"
Reds 10, Marlins 8: These teams love their bonus baseball. Extras for the second straight night and a Reds win for the second straight night, this time on a Joey Votto with a two-out single in the 11th. That saved everyone's bacon, because the Reds had blown leads of 4-1 and 8-5 earlier in the game. Four RBI for Jonny Gomes. Another night of about 2,500 people in Joe Robbie. Go Feesh.
Rays 8, Orioles 6: Brian Matusz took a two-hitter and a 3-0 lead into the eighth, but then he lost it, was replaced, and the bullpen coughed it all up and then some. Luke Scott tied it back up again in the bottom of the inning but Carlos Pena put it away with a three-run job in the tenth. Surprisingly, Mike Gonzalez did not appear in this game, having apparently outsourced his lead-blowing responsibilities to others.
Dodgers 9, Diamondbacks 5: Two homers in the fourth and two homers in the fifth put the Dodgers up 6-1 and from there they just had to vamp until the end. Clayton Kershaw was so-so. Russell Martin said "he lost a little bit of command at the end, got in a funk." Ian Kennedy was even funkier — which is usually a good thing, but not so here — giving up six runs and six hits over 4.1.
Yankees 7, Angels 5: The rings made them happy. The 7-1 lead heading into the ninth made them happy. The fact that Dave Robertson came in, loaded the bases and then gave up a homer to Abreu, thereby necessitating a Mariano Rivera save could not have made anyone very happy. As for the Angels: Jesus. I saw a guy jump off the 10-story parking garage next to my office once about five years ago. I took the rest of the day off and thought about my mortality and stuff. Not sure I could hang out at the ballpark. let alone mount a late rally.
Pirates 6, Giants 5: Three hits and two RBI for Garrett Jones, who also caught a hot shot off Pablo Sandoval's bat to end the game.
Rockies 11, Mets 3: John Maine allowed eight runs in three innings of work and was way below his normal velocity. He says it's mental, not physical. I get this feeling he's going to have some time to work through the mental aspects of all of this as a long man in the bullpen pretty soon.