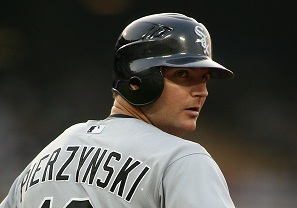 OK, I've finally had a chance to see the video of the A.J. Pierzynski hit-by-pitch. It's here, and as you'll see, he was so totally not hit by the pitch. It bounced in the dirt and then hit home plate umpire Tim McClelland, but it never touched Pierzynski, who flopped like a French soccer player. A brief argument ensued, Romero was apparently distracted and the next hitter — Alexis Rios — hit a two-run homer breaking up the no-hitter.
Totally weak on Pierzynski's part. It's one thing to have the ump award you a base when the ball doesn't really hit you — if it happens you put your head down and get down to first before he changes his mind — but Piersynski's Bette Davis act, complete with the limp and the hobble down the baseline, was pretty damn weak.
But then what do you expect from Pierzynski? This is a guy who spiked Justin Morneau. This is a guy whose own manager said "If you play against him, you hate him. If you play with him, you hate
him a little less."  He's not well-liked, and bush league theatrics like this are part of the reason.
Not that I'm complaining. As I've mentioned before, I was a big pro wrestling fan in the 1980s, and I think baseball needs more heels. Pierzynski is not a big enough star to pull that sort of thing off himself, but if someone huge like, oh, I dunno, Alex Rodriguez decided to become baseball's version of Ric Flair I see no reason why Pierzynski couldn't be its Tully Blanchard. Ozzie Guillen could be their J.J. Dillion. If they get a couple of guys to be Ole and Arn Anderson they could be baseball's version of the Four Horsemen. They could start hitting baseball's faces over the head with metal
chairs and everything.
And it's not like he doesn't have experience with this sort of thing.