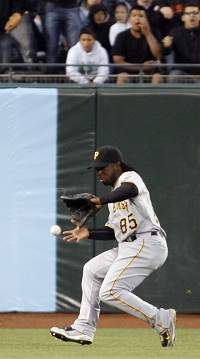 The Post-Gazette's Dejan Kovacevic observed something quite extraordinary: in the early going of the Pirates-Giants game, the Pirates consistently shifted all three outfielders towards right, even with right-handed batters at the plate. This allowed Aaron Rowand's leadoff double and Mark
DeRosa's broken-bat, two-run single before the shift was removed. Kovacevic believes that Lastings Milledge could have reached both of those balls had he been positioned properly.
I didn't watch the game live, but I just now went back and watched the replay on MLB.tv and, yes, the shift was rather ridiculous. The Giants broadcasters began questioning it during Edgar Renteria's first inning at bat, saying that the Pirates "must have last season's scouting report," because unlike last year when Renteria was battling injuries, he can now pull the ball again. Even if that's the case with Rowand, there's no word on why they were running it during everyone else's at bats. And I'll add that the problem was exacerbated by the fact that the Pirates' starter Brian Burres is a guy who works the cut fastball inside and that even if he's not throwing there on purpose — which is rare — he misses inside all the time, which makes pulling the ball into an empty left field pretty damn easy. Just ask Mark DeRosa.
Overall, Kovacevic notes, seven fly balls were hit
to left with no outs recorded "through no fault of his own.
He simply could not cover the ground to get to them, whether because of
foul luck or flawed advance scouting or positioning."
Pirates baseball: it's FAN-tastic!