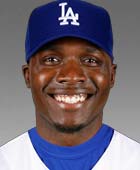 Yahoo!'s Jeff Passan and Orlando Hudson spoke yesterday about this Thursday's Jackie Robinson Day and about the still-unemployed Jermaine Dye. Culture warriors: let's get ready to rumble:
You've got some guys who miss a year who can come back and get $5, $6
million, and a guy like Jermaine Dye can't get a job. A guy like Gary Sheffield,
a first-ballot Hall of Famer, can't get a job . . . We both know what it is. You'll get it right. You'll figure it out.
I'm not gonna say it because then I'll be in [trouble] . . . Call it what you want to. I ain't fit to say it. After I
retire I'll say it. I've got a whole bunch of stuff to say after I
retire."
Many will immediately dismiss this, especially in light of the news that Dye received — and rejected — yet another offer recently, this time from the Washington Nationals. Before doing so, it's worth reading Passan's take which, while not endorsing Hudson's views on the merits, puts them in context. The upshot: Hudson is not a lone nut crying racism here. There are others who have done so recently, and it's reflective of a chasm of perception between black ballplayers and the game's power structure that needs to be addressed.  It's a good point.
As for the merits, personally I'm an Occam's Razor guy. I don't think it's as clean or easy to explain Jermaine Dye's unemployment as a racist thing as I think it is to explain it within the context of a set of financial realities in baseball that (a) has severely depressed the value of aging sluggers with little defensive value like Dye; and (b) may, depending on who you believe, have a collusive element to it all.  Jim Edmonds and Mike Sweeney have jobs and Jermaine Dye doesn't, but I suspect that has less to do with race than the fact that Jim Edmonds and Mike Sweeney were willing to take $850K and $650K, respectively, and Jermaine Dye is not.
Not that I think the financial aspects to all of this will be seriously considered as talk radio guys rush to pillory Orlando Hudson of being the second baseman who cried racism.