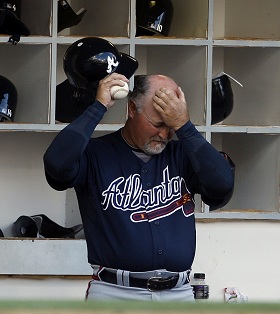 Padres 17, Braves 2:  Er, um, yeah. I'm going to pretend that this was just an 8-2 game or something like it, because really, once Bobby Cox decided to let Jo-Jo Reyes mop up the game was already lost and the actual stats mere details. But enough about the Braves deplorable performance. Let's talk about Kyle Blanks, who is young and exciting and has a future and everything. He went 3 for 5 with a double a homer and five RBIs. And let's talk about the Padres overall offense which scored the most runs of any team in the history of Petco, which count even if it was Jo-Joe spreading the accelerant on the tinder. And it's not like this was just an offensive beating by the Padres. Starter Kevin Correia and relievers Edward Mujica and Adam Russell kept the Braves to four hits, which makes this a well-rounded butt-whuppin'.
Twins 5, Red Sox 2: Aaron has all the coverage you need of this one, including first impressions of how the new park plays. I watched it on TV from the NBC offices which, appropriately enough, have HD TVs with the Extra Innings package set up at every work station in the joint. If the law firm had that I never would have left.
Rays 5, Orioles 1: Matt Garza hurled eight innings of one-run ball to a 1-6 Orioles team in front of 9,129 fans which was a record low for Baltimore since they moved into Camden Yards. Shocking to me this early in the season given that this team is supposed to have hope and promise and all of that. Carl Crawford was 4 for 4 with a homer.
Cardinals 5, Astros 0:  In the power rankings yesterday I asked whether the Astros were really as bad as their record. Answer: yeah, seems like it, as they were shut out for the third time in seven games. Pujols hit a three-run bomb and an RBI single. Ryan Ludwick went 4 for 4. Adam Wainwright blanked the Astros for eight innings. Mark McGwire got a standing O from a record crowd for the Cardinals in new Busch. All-in-all it was a special Opening Day. At least for the home team.
Athletics 4, Mariners 0: Not such a nice home opener for the Mariners, who were blanked on two hits and are now off to their worst start in six years. Randy Johnson threw out the first pitch for the M's. He was later asked to DH but declined because he didn't want to be associated with such offensive ineptitude.
Phillies 7, Nationals 4: Philly lost Jimmy Rollins with a calf injury and lost Jayson Werth with a sore hip, but they triumphed all the same because apparently nothing can keep these guys down. Jason Marquis allowed seven runs and six hits in 4.1 innings and could have followed up this bummer of a game with a steak as big as a toilet seat at the Palm. Meanwhile, Stephen Strasburg is on a bus somewhere with a stop for lunch at an Eat-N-Park in his immediate future.  These wrongs will be righted sometime this summer.
White Sox 8, Blue Jays 7: Andruw Jones had two homers and an RBI single. Think maybe he'll get more starts in left? He certainly helped bail Jake Peavy out (5.2 IP, 8 H, 7 ER, 3 BB). But the real hero was Mark Teahen who tied it up with a homer in the 9th and won it with a triple in the 11th.
Cubs 9, Brewers 5: A five spot in the third courtesy of homers from Jeff Baker and Xavier Nady and a three spot in the fourth courtesy of a Derrick Lee single and an Aramis Ramirez homer put this one out of reach for the Cubs' home opener. Thirteen hits for a team who, coming into this game, was collectively below the Mendoza Line. Doug Davis was supposed to have been brought in to stabilize the rotation. Instead his first two starts have been Suppanriffic.
Rangers 4, Indians 2: Nelson Cruz hit his 5th homer of the year to put the Rangers up 4-2 in the 10th. Cruz tripled as well. Neftali Feliz got the save, throwing three 100+ m.p.h. pitches. I can't help but think that Nolan Ryan, of all people, would appreciate that a man who throws that kind of gas should be starting games. From the game story: "Hall of Famer Bob Feller, 91, threw out the ceremonial first pitch to
former Indians catcher Sandy Alomar, seems like he's 91, now Cleveland's first base coach."  At least I think I got that quote right.
Royals 10, Tigers 5: I was watching this one at the office before the Twins game came on. The guy working at the desk across from me owns Max Scherzer in a fantasy league and wasn't pleased about the results. In non-sports-related offices you have to get frustrated at your fantasy team clandestinely and then suck it up and get on with life. When you work for a company that runs, like, the biggest fantasy site on the web and which puts TVs all over the place for the express purpose of watching ballgames during the day, your frustration can flow more freely. In other news, yesterday Rob Neyer said "I don't want to see the Royals and the Tigers playing four-hour games
someday." This one was 3:26.
Reds 6, Marlins 5: The Scott Rolen show: he homered twice and drove in the winning run in the 10th inning. Jorge Cantu hit a two-run double, extending  his carry-this-freakin'-team streak to "all season."  Official gate was 10,000+. There were actually about 3,000 souls in the park. 2,700 of those were octogenarians who thought it was still the 1960s and mistook this for an Orioles spring training game. When informed that the Orioles haven't trained in Miami for over 20 years they said "No, I can't have hot dogs. They give me gas."
Giants 9, Pirates 3: Like I've always said, with a one-two punch like Bengie Molina (4 for 4, 2B, HR, 4 RBI) and Barry Zito (6 IP, 5 H, 3 ER), there's really no stopping this Giants team.