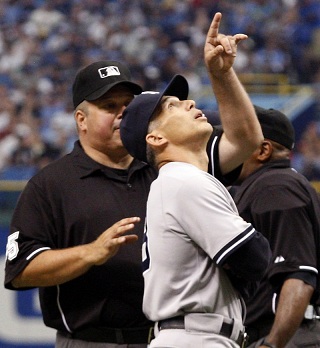 This is the first Power Rankings post that actually has some data behind it. But before you go crazy comparing records of the ranked teams and trying to find statistical inconsistencies and stuff, know this: my power rankings are not a highly empirical exercise. Yes, the Blue Jays lead the Yankees in the AL East, but if anyone ranks the Yankees below the Jays they're not dealing with the world of reality in my view. This is partially due to the competition each team faced, but also because of how we all know the season will play out. Gotta keep the big picture in mind is what I'm saying.
That said, while preseason predictions are fun and everything they should not substitute for observation and analysis. For example, I'm still high on the Braves for the long haul. They went went 3-3 last week, however, so keeping up in the top five would be rather silly.
The upshot: unlike most of the other things we write around here, momentum, karma, juju and the cuts of team's jibs matter for the Power Rankings. If that bothers you I recommend that you keep your eye on the real standings. Those will never lie to you like I'm about to:
1. Yankees: I know they're not even in first place in their division, but if anyone wants to complain about this placement, please supply your argument for why you think the Blue Jays will win the division this year before doing so, OK? No one? Good. Let us then laud the Yankees for going 4-2 on the road against the toughest teams they'll play all year.
2. Phillies: Yes, they outscored their opponents 43-18, but let's wait until their opposition is more impressive than the Nats and Astros before we crown them.
 
3. Cardinals: A bullpen, a bullpen! My kingdom for a bullpen! No reason to worry too much, however. At least not yet. La Russa and Duncan have tended to figure this sort of problem out in the past.
4. Tigers:  Get back to me when they play someone who isn't the Royals or the Indians. And based on how today's game against the Royals is going that may not make a difference.
5. Blue Jays:  If Vernon Wells continues to post a 1.450 OPS this season you may see the Blue Jays at the top of the rankings all year. In the event that he doesn't, however, this will be their high water mark.
6. Twins: I was more impressed with them taking three of four from the Angels until I saw the Athletics take two of three from the Angels.
7. Athletics: Pfun Pfact! Both A's losses came in Ben Sheets starts. If it wasn't for their $10 million pickup this team could be undefeated! 
8. Giants: That thing I said about Vernon Wells and the Jays' chances?  It applies equally well to the Giants and Edgar Renteria. And Barry Zito too, really. 
9. Diamondbacks: Their good first week had a lot to do with Miguel Montero and the fact that they played the Padres and Pirates. Now Montero, the Padres and the Pirates are gone. Let's see what happens.
10. Marlins: If you would have told me that Josh Johnson would struggle in his first two starts and that the Marlins would lead the league in errors, I would not have guessed that they would be 4-2.


11. Red Sox:
I got a lot of heat from you guys for ranking them low last week. I just
worry about their age and injuries and stuff, and this last week didn't
do anything to make me feel better about those things.
12. Rays: They looked worse dropping two of three to the Yankees
than the Red Sox looked dropping two of three to the Yankees.
13.
Braves: Chipper Jones being out doesn't help. Neither does Billy
Wagner hanging curveballs like he did in San Francisco on Friday. And
someone tell Yunel Escobar, Melky Cabrera and Nate McLouth that the
season has started.
14. Rangers: Good: Vlad Guerrero
hitting .500.  Bad: the team solving their closer problem by giving
Neftali Feliz the job. Dirty secret: lots of pitchers would look like
utter studs if all they had to do was protect three-run leads for one
inning a few times a week. Feliz will likely look good doing that. When
he does, there will be all kinds of pressure to keep him in the role,
complete with people talking about how he has a "closer's mentality" and
all that jive, and yet another promising starting pitching prospect
will be lost.
15. Rockies: Still working out the kinks of
that outfield rotation or platoon or whatever the hell you want to call
it. 
16. Brewers: Jeff Suppan is coming back this week. I'll
let you decide if this is good news or bad news.
17.
Nationals: Nothing that happened in Washington this past week is as
important as what happened in Altoona, Pennsylvania yesterday.
18.
Reds: Jay Bruce needs to figure something out fast. He's 1 for 19,
and if the Reds are going to make any noise this year they need him to
contribute.
19. Pirates: Pedro Alvarez, Steve Pearce, Neil
Walker and Jose Tabata have started out the season red hot. They play
in AAA, however, so I guess this is more of a power ranking for next
year's Pirates team, not this year's.
20. Mets: The
biggest battle I'm going to have in the rankings this
year is separating how the Mets play on the field from the mood that
surrounds the team due to the crazy New York press coverage. Three of their four losses
were one-run losses. The only game they really seemed bad in was
yesterday's. It's too early to get all morose about it. There will be
plenty of time for that later.
21. Dodgers: The boys in
blue finally get a home game on Tuesday. They need it. They're not
hitting with runners in scoring position and they aren't getting much
from their starters.
UPDATE: Read this and then forget I said anything about RISP.  They're still 2-4 though, so I'm not movin' them.
22. Angels:
Last week I asked how long a leash Brandon Wood has. In that week? He's 1
for 19 and had a throwing error yesterday that opened the floodgates
for the Athletics.
23. White
Sox: Good starting pitching this week but not enough offense.
Repeat that every week for the next six months and you have your season.
24. Mariners: Bad starting pitching this week and not
enough offense. Repeat that every week for the next six months and you
have one of the bigger disappointments in all of baseball this year.
25.
Cubs: They've lost four games. One was a shellacking and the other
three came when they lost leads in the eighth inning. Could be a painful
year for the Cubs.
26. Royals: Gil Meche came back and
got shelled yesterday, causing more concerns about his health. Kyle
Farnsworth said he's feeling just fine, however, and should be ready to
return shortly. Royals fans are probably wondering why life is so unfair
right about now.
27. Padres: Chris Young is on the
disabled list and the top of the order not producing. On the bright side
Adrian Gonzalez has started strong, so his trade value has not taken a
hit!
28. Indians: Grady Sizemore was scratched from
today's home opener. There wasn't a ton of hope here to begin with, but
sheesh.
29. Orioles: Mike Gonzalez had a nightmare first
week and then Brian Roberts goes on the DL.  The Orioles want a do-over
on this season thus far.
30. Astros: It's going to take a
few games to figure out if the Astros are this bad or if Philly and the
Giants are that good. Oh, and they start three against the Cardinals
today, so this season could get out of hand in a hurry.