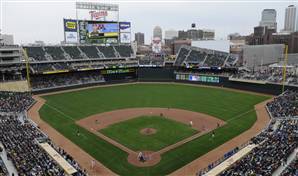 That's the verdict of a Yale physicist who deftly notes that it's colder outside at night in Minneapolis than it is inside the dome and a sabermetrician who has studied the effects of cold air on the trajectory of baseballs and has noted a few interesting things about the prevailing winds in Minnesota.
But like I said the other day, this stuff is just way too premature. No one knows what's going to happen in a ballpark until a team plays in it. Yankee Stadium v.3 was supposed to play just like v.2 did and it didn't in its first year. AT&T park was supposed to substantially favor hitters.  Yes, I know there is some science behind the predictions here, but my dad was a meteorologist for 40 years and he'll be the first one to tell you that predictions that are based, at least in part, on prevailing winds are rendered mostly meaningless once you, you know, put a bunch of buildings in front of those winds.  He'll also tell you that those guys on your local TV news "Storm Team" who freak out every time a snowflake falls need should be taken out and shot for desensitizing the public to legitimate severe weather warnings, but that's another post.
I will close by noting that both Justin Morneau and Joe Mauer have more home runs and higher career slugging percentages away from the old dome than in it, and those include a lot of games in a big cold park in Detroit. Upshot: don't worry your pretty little heads about it, Twins fans.
UPDATE: For a bonus look at outdoor baseball in Minnesota — a look way, way back in time, actually — check out The Daily Something today.  Great stuff.