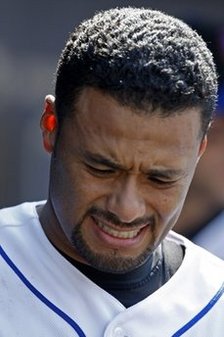 Ian O'Connor is now a columnist for ESPN New York, but who knew that he also moonlights as Madam Ruby?
So two seasons and two starts later, after knee and elbow surgeries,
after his new team choked in Year 1, collapsed in Year 2 and finished
its sixth home game of Year 3 with a lost series to the unworthy
Nationals and a 2-4 record, I asked Santana if he regretted doing
business with the Mets.

Had his water been spiked with truth
serum, his answer would've sounded like this: "What do you think?"
He goes on:
Yes, Santana has to be wondering what in the world he's gotten himself
into. He's only human. That voice in the back of his head is growing
louder, moving to the front, telling him he should've put his money on a
different horse.
There are so many things wrong with this piece that I don't even know where to begin, but I'm mostly struck by why he would use such a tired storyline after what was only Santana's second start of the season. Why not save this kind of junk for the middle of the summer since O'Connor surely believes the Mets are destined for another fourth place finish, or worse?
Long story short, if O'Connor tells you that your missing bike is in the basement of The Alamo, promptly ask for your money back.
(Hat tip to MetsBlog for the link)