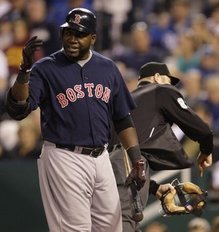 Joe Christensen of the Minneapolis Star-Tribune reports that David Ortiz is telling friends that his left wrist is hurting. Remember, Ortiz missed nearly two months with a torn tendon sheath in the very same wrist during the 2008 season.
The 34-year-old is just 2-for-18 (.111) with nine strikeouts to kick off the new season. He was 0-for-4 with four strikeouts against the Royals on Sunday, leaving five men on base. There's already plenty of chatter about when he'll be forced to platoon with the right-handed hitting Mike Lowell.
Ortiz was asked about Christensen's report upon his arrival to Target Field on Monday. Here's his response, via John Tomase of the Boston Herald:
"Don't pay attention to that crap," Ortiz said. "I'm fine. If I'd have been raking they wouldn't be saying that."
We'll have to give him the benefit of the doubt for now, but it's time to really wonder how much of a leash he'll be given this season.