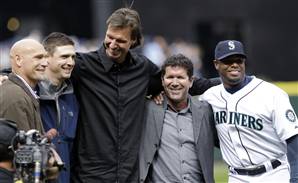 Randy Johnson was back on a mound on Monday night, throwing out the first pitch in the Seattle Mariners' home opener against the Oakland A's.
The future Hall of Famer, who rose to prominence in Seattle (winning the 1995 Cy Young) before moving on to win four more Cy Youngs and a World Series title with the Arizona Diamondbacks, dealt a strike to former battery mate Dan Wilson, then was joined by current Mariner Ken Griffey Jr., Wilson, and former Seattle teammates Edgar Martinez and Jay Buhner for a photo op.
But for all the excitement of the pre-game ceremony, Johnson could do nothing to stop the Mariners' disappointing start, as they managed just two hits against Justin Duchscherer and two relievers in a 4-0 defeat.
With Cliff Lee and Erik Bedard injured, plus Ian Snell off on personal leave, the Mariners would be wise to convince the Big Unit to delay his march toward Cooperstown by one year and get back into the game.
While they're at it, Martinez and Buhner could probably help, too.
Are you on Twitter? You can follow Bob here, and get all your HBT updates here.