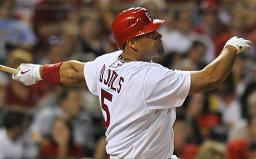 Brewers 8, Cardinals 7: I'm in the tri-state area today meeting NBC folks, planning for the future, talking about the State of the Blog, but mostly just convincing them that they're entrusting their baseball coverage to a real person and not an android or one kid standing on another kid's shoulders wearing a long overcoat or something. I missed the beginning of this one due to my flight and the ride up to where I'm staying (more on this below), but I caught the bulk of it while sucking down beers and eating a wrap* and stuff at Bobby Valentine's bar.
Not a big crowd — you'll be shocked to know that Stamford, Connecticut doesn't exactly hop on a Sunday night — but it was fun watching a wild one in a (mostly) baseball bar with a bunch of baseball fans. For the record: the crowd seemed to feel more bad for Trevor Hoffman's meltdown in the ninth than they were impressed by Pujols' and Holliday's dingers. When Casey McGhee hit his walkoff winner there was much rejoicing, despite the fact not a person in the place was a Brewers' fan.
*Bobby Valentine claims he invented the wrap. I'm highly dubious, but I felt obligated to order one anyway. It was an OK wrap. Nothin' special, but I'll give it a guarded thumbs-up based on the arguable historic value of it all and the good overall juju of the evening.
Diamondbacks 15, Pirates 6: The Dbacks pull the old "score 13 runs in the fourth inning trick." One of the oldest ones in the book, really, but it almost always works. The Pirates' Daniel McCutchen was responsible for most of the damage. "That's probably the worst [inning] I've had," he said after the game. Probably? I'm going to go out on a limb here and say it was.  What else say you, Mr. McCutchen? "I wish I would have been more mentally strong and stayed within myself a
little more."  I'm going to go out on another limb here and say that getting shellacked like that probably takes some physical deficiencies too (i.e. throwing pure garbage), so McCutcheon should probably take it easy on his staywithinhimselfability.
Phillies 2, Astros 1: A dominating outing from Roy Halladay (CG 7 H, 0 ER, 8K, 0 BB). But two minor caveats here: (1) The Astros couldn't hit the water if they fell out of a boat (on the season they've scored as many runs as the Dbacks did in the fourth inning yesterday); and (2) The fact that the unearned run Halladay gave up was unearned because of his own damn error shows you just how ridiculous the earned/unearned rules are. In a fair and just world Halladay and any other pitcher who does that should be charged with the run.
Tigers 9, Indians 8: The Tigers had no business winning this game. They trailed by four heading into their half of the eighth and they stranded eighteen (18) runners, but with the Indians' bullpen all things are possible. In this case, a bases loaded walk and then a wild pitch by Chris Perez is what was possible. Gerald Laird snapped his 0-17 to start the season, which if it had happened in Boston the city would be on lockdown. Justin Verlander said this after the game: "The Indians have a great team, and you have to make good pitches to get
them out." Justin. We are men of action. Lies do not become us.
Giants 6, Braves 3: Rain delay: four hours, nine minutes. Game time: two hours, twenty minutes. I haven't seen so many people being paid to just sit around all afternoon since I left my job at the state last November.  Jason Heyward hit a home run for the second game in a row, but his errant throw home in the sixth — which bounced off Pablo Sandoval's generous thigh and ricocheted halfway to Bakersfield allowing two to score — basically canceled it out. Tim Lincecum struck out ten and walked one. I think there was an elderly woman floating in a raft somewhere near the Oceanic pole of inaccessibility who had not yet been convinced of his greatness, but when she received news of this game via ham radio she just threw up her arms and said "Screw it. That boy is something else."
Blue Jays 5, Orioles 2: The good news: Mike Gonzalez did not blow this game for the Orioles. The bad news: Miguel Tejada's o-lay job in the eighth basically did, allowing the Jays to hit lead-forfeiting back-to-back homers when they should have been out on defense. Of course, in Tejada's defense, Millwood still hung those breaking balls to give up the homers, so the mere fact that three of the four runs he gave up were "unearned" doesn't totally absolve him of all sin.
Athletics 9, Angels 4: Mark Ellis got the day off and Adam Rosales made the most of it, driving in four runs, one of which came on a solo dinger. Rosales is a rather amped-up kind of guy, and his teammates took notice of that fact after he finished what can only be called his home run sprint as opposed to a trot: "He's someone who
probably needs to take a nap . . . he plays like he hasn't
slept in four days . . . he doesn't know any other speed."  I wonder if Rosales is related to the guy who drove me from LaGuardia to my hotel last night. I don't consider myself a timid soul when it comes to the roads, but at one point on I-95 near the Connecticut state line we passed what looked like a horrific accident in the southbound lane, which was followed by miles of gridlock. For the first time in my life I envied people stuck in gridlock. Seriously, this dude was like Captain Chaos or something.
Rangers 9, Mariners 2: Scott Feldman gave up one earned run in seven innings (not his error, though, so I don't mind citing it), lowering the Rangers' rotation's ERA to 1.67, which is the best in baseball. This is obviously not your older brothers' Rangers team.  Well, the part where they scored a bunch of runs is, anyway. Either way, the fact that, bullpen woes notwithstanding, the Rangers have maintained last year's great leap forward in pitching is a good sign in the early going. As is the fact that Vladimir Guerrero is hitting .500.
Red Sox 8, Royals 6: Pedroia went 4 for 5 with a homer and the rest of the Sox joined in pounding Gil Meche (3.1 IP, 8 H, 7 ER). The offense was needed as Clay Buchholz labored, with his line (5 IP, 7 H, 2 ER) looking far more impressive than his actual pitching did. As Drew noted yesterday, Jacoby Ellsbury hurt his ribs when Adrian Beltre collided with them, but he looks like he's going to be OK sooner rather than later.
Rockies 4, Padres 2: Ubaldo Jiminez allowed two runs and seven hits while striking out seven, the day after these two teams played 14 innings. Nice bounce back for Colorado, who clearly had better supplies of Red Bull or Mountain Dew whatever it the kids take these days now that the pep pills aren't allowed.
White Sox 5, Twins 4: J.J. Hardy was thrown out at home to end it and the Twins twice gave up two-run leads, but no one is going to be thinking about this much today given that it's Happy New Ballpark Day in Minnesota.
Yankees 7, Rays 3: I can't decide if I hate the Tropicana roof more or if I hate the blue Rays' blue Sunday jerseys more. They're both pretty heinous, truth be told.  The Yankees got bent out of shape when Evan Longoria's single bouncing off a catwalk, but given that they just went 4-2 on the road against the Rays and Red Sox in the first week of the season, I think they'll chill out about it.
Reds 3, Cubs 1: Wild thing, I think you move me.  Mike Leake's debut: 6.2 IP, 4 H, 1 ER, 7 BB.  Yes, seven, and a wild pitch on top of it. He somehow survived, and went 2 for 2 at the plate to boot. His biggest trouble came in the first inning. I'll let Lou Piniella describe it for us: "We had the bases loaded and the meat part of our lineup coming up, and
the kid wiggled out of it."  Meat part?
Nationals 5, Mets 2: I got a good view of Citi Field out the window of my plane as it landed yesterday. It was only slightly more lifeless at 8PM as it was earlier in the day. A grand slam and an RBI double for Josh Willingham took care of all the Nats' offense. The homer was great, though. Because the umps initially said the ball was in play, Adam Dunn, who had been on first, came barreling into Rod Barajas at the plate. The call was overturned on review, which meant that Dunn barreled a guy over on a homer. He should just start doing that even on his own home runs. Know what else was cool? Seven shutout innings from Livan Hernandez. Of course whether you find that cool or not probably depends on how much you care for the Mets.
Marlins 6, Dodgers 5: A double and a home run led to five RBI for Jorge Cantu. The Dodgers led 4-0 at one point. Dodgers' starter Charlie Haeger has 12 Ks in six innings. He's also a knuckleballer. 2:1 K:IP ratios and knuckleballers are both pretty cool things, even in defeat.