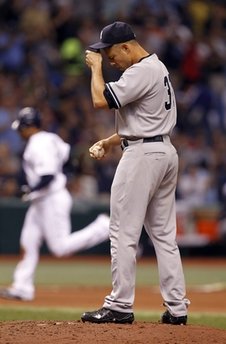 The early returns on Javier Vazquez's to pinstripes? Deja vu all over again. He was torched for eight runs on eight hits — including two home runs — a 9-3 loss to the Rays on Friday night. I'd show you the back pages of the New York tabloids panicking and overreacting, but they are too busy talking about some Tiger guy right now.
Vazquez told the New York Daily News that Friday's failure was a direct result of his failure to execute.

"The first three innings I was making good pitches, but after that I
wasn't making good pitches," Vazquez said. "With men on base I was just
rushing too much. Bottom line is I didn't make my pitches and when you
don't make pitches and you get the ball in the middle of the plate
they're going to hit you hard and that's what happened."
I love how there's this belief that Vazquez's success last season was some creation of the National League East. Granted, he should see some regression with a move back to the American League, any pitcher would, but remember that Vazquez was 2-1 with a 3.00 ERA, 1.03 WHIP and a 30/9 K/BB ratio in five starts against the Phillies last season, and they're hardly chop liver. Expecting a repeat of last season's results would be silly, especially with his flyball rate, but I have a feeling he's going to be just fine.