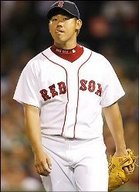 Daisuke Matsuzaka kicked off a rehab assignment with Triple-A Pawtucket on Saturday afternoon by allowing two hits over five scoreless innings. He issued one walk while hitting two batters and striking out three. He topped out at 93 mph on the radar gun, according to the Associated Press.
Dice-K was pulled after
throwing 73 pitches, though he was originally expected to throw 80-85 pitches. Despite leaving earlier than intended, Matsuzaka told Tom Layman of WEEI.com (through his interpreter) that he felt healthy and did not leave the outing due to fatigue.
"It was more technical issues," Matsuzaka said. "I think I was trying to
be a little too fine with those pitches."
Matsuzaka is expected to make at least two more rehab starts before possibly rejoining the Red Sox rotation later this month.