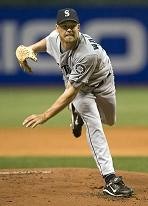 UPDATE: These could be two of them. Tim Brown of Yahoo! Sports reports that the Diamondbacks and Indians are possibilities for Washburn, while the Mariners are becoming "a long shot."
7:00 pm: Agent Scott Boras told Tom Krasovic of AOL Fanhouse that "as many as five clubs" are interested in free agent left-hander Jarrod Washburn.
"A lot of teams are interested. The reality has struck."
This, after Washburn reportedly turned down a modest contract offer from the Mariners last month. Right. Now Boras has everyone right where he wants them. Crackerjack job, man.
Washburn was 9-9 with a 3.78 ERA and 1.19 WHIP over 28 starts last season; impressive numbers until you remember the cozy place he pitched in until July 31 and the 7.33 ERA he posted in eight starts with the Tigers. His FIP (Fielding Independent Pitching) was actually 4.58. Toss in the fact that he's a 35-year-old left-hander who underwent knee surgery last October, and it's no surprise to see him still out of work, or at least without the contract he and his agent desires.