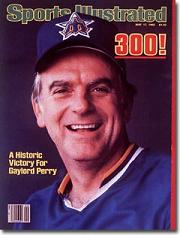 One of the reasons sports journalism gets disrespected so much is that it is standard operating procedure for sports writers to simply repeat evidence-free and even counter-factual assertions about things with little regard for how easily disprovable or unprovable the assertion may be. Case in point: the "no one will ever reach 300 wins again" meme, which gets repeated three or four times a year by people who should know better.
Today's example: Tim Kurkjian, who writes an otherwise acceptable passing-of-the-torch article about the great pitchers of yesterday and today, but feels it necessary to end with this note:
With five-man rotations and pitch counts and loaded bullpens with
relievers who make millions, it's going to be hard to find any pitcher
who will pitch long enough in a career, or pitch long enough in games,
to get to 300 wins.
People have been saying that we've seen the last 300 winner for years. They said it after Early Wynn did it. They said it after Nolan Ryan did it. They said it after Roger Clemens, Greg Maddux and Tom Glavine did it. And since last year they've been saying that Randy Johnson was the last of the breed. Cut. It. Out.
The last four 300 game winners all pitched in five man rotations and in the era of bullpen specialization. Only Greg Maddux had more than 36 starts in any one season. A five man rotation may cut down on wins per season, but in reducing workloads it may very well lengthen careers.  To cite these factors as bars to another pitcher winning 300 games is simply and inexcusably ignorant.
Sure, you can look around now and say that you don't see any 300 game winners on the horizon, but that's simply because (a) it's rare; and (b) we tend not to think of someone as a 300 game winner until, you know, they win something like 250 games or so and there's not anyone out there that really fits the profile at the moment (though I could totally see Sabathia doing it).
The thing, is, gaps in 300-game winners are really common. There were 20 years between Lefty Grove and Warren Spahn hitting the plateau. There was a bigger gap between Early Wynn doing it in 1963 and Gaylord Perry doing it in 1982. There was a big gap between Ryan in 1990 and Clemens in 2003 as well.  Indeed, I think the only reason that guys like Kurkjian like to say that there will never be 300 game winners again is because for a brief shining moment during their early adulthood — the 80s — a handful of guys who pitched through the low-offense, heavy pitcher use 60s and 70s made the mark. That was the historical exception, however, not the rule.
Someone will win 300 games again. It may not be a currently active pitcher, but someone will do it.  And I'm sure that the moment they do it, someone will say that we'll never see it done again.