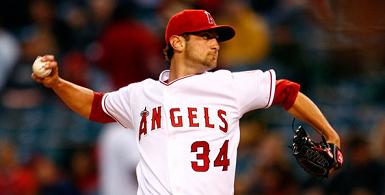 One year ago this morning we woke up to the news of Nick Adenhart's death. As Lyle Spencer of MLB.com reports, the Angels are still working through it all. "The shock … I don't think you ever get over the shock," Jered Weaver said. "Any time you bring it up, it's there."
The Angels will award Weaver with the inaugural Nick Adenhart Award tonight, which will henceforth go to the team's most valuable pitcher. And with that, the formal part of the grieving process will end. Gone will be the reminders that were everywhere last year: his
locker preserved in game-day condition. His jersey hanging in the
dugout. His number on the outfield wall.
Personally, I don't do well with this sort of thing. I don't mean death itself. I can deal with the actual death of someone close to me as well as someone can be expected to deal with it under the circumstances.
The hardest part for me is the expected and inevitable return to normalcy. When the person's clothes and possessions are disposed of. When you change the entry in the address book from "Husband and Wife Smith" to merely "Wife Smith." When you serve a meal and, for the first time, someone feels comfortable taking the dead person's seat at the table. Those are the kinds of things that truly cause the loss to set in for me. They underscore the finality and, in some cases, tragedy of it all in ways that affect me far more than the initial moment of shock and the first few days and weeks of grieving do.
The Angels are now returning to normalcy. For those on the team closest to him, Nick Adenhart will necessarily transform from a source of raw, immediate and visceral inspiration to something different. And in some subtle but important ways, that may be harder to deal with than what they went through last year.