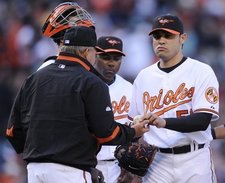 Mike Gonzalez isn't doing much to endear himself to Baltimore right now. After blowing a save on Opening Night against the Rays, he proceeded to cough up the lead in Friday's home opener against the Blue Jays, as well.
Handed a one-run lead in the ninth, Gonzalez didn't waste any time, walking Edwin Encarnacion, throwing a wild pitch, then surrendering a game-tying double to Travis Snider. John McDonald then pushed Snider to third base with a bunt, setting up Jose Bautista to deliver a sacrifice fly for the game's decisive run.
The new Baltimore stopper has allowed four runs on five hits over his first two innings of work this season while walking four and striking out three. Regardless, he tells Brittany Ghiroli of MLB.com that he's confident he can shake the early struggles.
"There's no doubt in my mind that i can get the
job done. I need to turn this around and i need to do it quick."

Gonzalez has said all the right things thus far and there's no reason to believe he's not healthy, but remember that he underwent Tommy John surgery in 2007 and is coming off a season in which he made a career-high 80 appearances. Even tossing the inherent health risk aside, it's one of the offseason's biggest head-scratchers why the Orioles decided to give a two-year, $12 million commitment to a closer when they aren't
even expected to legitimately contend this season.