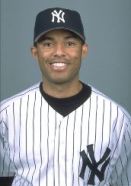 Mariano Rivera has been a major league pitcher since 1995. In those 15 years, I can recall exactly zero instances of him being critical of someone in the press. The man does his job, takes a shower, goes home and does it again the next day and doesn't let the petty affairs of the mere mortals around him disturb him in any way whatsoever. So when he spoke with the New York Post about Joe West's intemperate bleatings yesterday, it was definitely notable:
"It's incredible. If he has places to go, let
him do something else. What does he want us to do, swing at balls? He has a job to do. He should do his job. We don't want
to play four-hour games but that's what it takes. We respect and love
the fans and do what we have to do and that's play our game."
Joe West might have a point about game length, but (a) it's his job to try and do something about it; (b) he could start by calling strikes strikes instead of squeezing everyone like he does; and (c) regardless of any of that, he was way, way out of line in going public with his complaints about the Yankees and the Red Sox. If he's got a problem with them he should take it to the Commissioner's Office, and in no event should he — a freakin' umpire crew chief — be ripping teams in the press.
I hope West is disciplined for his wrong-place, wrong-time comments yesterday, and I hope that Major League Baseball makes that discipline public, just as it would do for any player or manager who went after the umpires. Integrity is a two-way street, and if it's improper for players to questions an umpire's integrity, it's improper for an umpire to do the same of the players over whom he has considerable power.