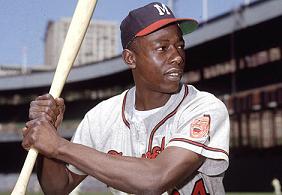 Hank Aaron, as almost all former players of a certain age do, shakes his head at the kids today:
Hank Aaron watches games these days and is perplexed as batter after
batter tries to jack pitches out of the ballpark, obsessed with the long
ball that made Hammerin' Hank famous.

"I don't think they understand the role of what they need to be doing,"
Aaron said Thursday during a visit to The Associated Press. "I'm not
saying all of them, but I think some players need to understand that
they're never going to hit 50 home runs or 45 home runs (a year).
They've got to learn how to hit the ball to the opposite field and do
the little things to help their ballclub win championships."
Cheap "do-as-I-say-not-as-I-did" irony aside, his point is a good one, inasmuch as some guys simply don't have a lot of power and should always be trying to pull the ball out of the yard.  I think, however, that he sets the bar too high for would-be power hitters.
If I'm running a team I want almost everyone to try and hit more home runs, at least as long as they're not messing up their natural swing and approach to do it. If someone can hit 10 homers I want them to hit 15. If someone can hit 15 I want them to hit 20. The reason is simple: home runs correlate really nicely with winning. If you have power, you usually win. If you don't, you hardly ever do.
Aaron's comments suggest that only those players who can be elite home run hitters like he was should concentrate on the long ball. I'd take his general idea to heart, but I'd only advise those guys who simply can't hit it out of the yard even if they square and turn on the ball perfectly — the Nick Puntos of the world — to get homers out of their head and try to slap it the other way.
Indeed, if some teams did that during Aaron's heyday instead of adhering so strictly to the then-prevalent orthodoxy (shortstops don't need to hit; everyone but the cleanup hitter bunts, etc.) there probably would have been more offense back then.