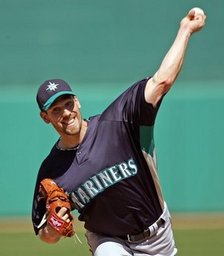 If it wasn't plainly obvious already, Mariners manager Don Wakamatsu made it official on Friday, telling Geoff Baker of the Seattle Times that Cliff Lee will not return from the disabled list until next month.
"Safely, I think we're looking at, hopefully, the first week in May,"
he replied. "Again, anything before that, I don't think he'll be built
up and we won't feel comfortable."

"The quandary we're in right now is, he feels like he can go,"
Wakamatsu said. "But the last thing we want to do is set him back at
all.''
More Jason Vargas for everyone!
On the bright side, it seems like Lee is starting to make a great deal of progress from his abdominal strain injury. The southpaw successfully completed a 25-pitch bullpen session in Arlington earlier today and is tentatively scheduled to pitch in a simulated game next Friday. He could be headed for a rehab stint shortly thereafter.