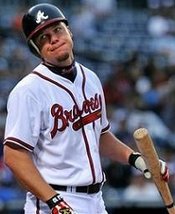 As was mentioned in the recaps this morning, Chipper Jones hurt his oblique in yesterday's loss to the Cubs. He was originally listed as day-to-day, but Mark Bowman of MLB.com reports that he got a cortisone shot today and because of whatever voodoo accompanies cortisone shots he's out until at least Monday, and may miss some more time.
My guess is that he'll once again begin pursuing Cal Ripken's Iron Man title on Wednesday of next week, due to the no-travel offday Tuesday which would give him some more time to heal. Also worth noting is that between Eric Hinske, Troy Glaus Martin Prado and Omar Infante, the Braves are rotten with guys who can at least pretend to play a little third base if need be. My guess is that they'll either plug Infante directly at third or else play Infante at second and move Prado over.
While all of this may be distressing to some Braves fans, David O'Brien reminded us this morning that the team went 9-1 when Chipper missed ten games last season. Fact is, the offense doesn't depend on him the way it used to and the Braves will get by without him for a few days.