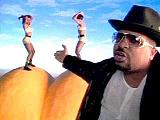 Slate's Josh Levin has surveyed the experts, and it's pretty clear: if you want to really know what you've got in a young prospect, you gotta inspect his butt.  The scouts' consensus: if you have a flat butt, you're just not gonna make it in this game because it means that you'll never fill out and get strong like a big leaguer needs to do.
As the blog Nerd Baseball notes, former Yankees, Dbacks and Rangers manager Buck Showalter may be on the bleeding edge of butt-scouting. "You don't see a lot of good power hitters or good pitchers that
generate arm speed that don't have a good, high butt on them," Showalter said. And he thinks Derek Lee is close to the ideal. "I don't want to say he's got a perfect butt, but when I look at it I
say, Wow."  As do we all, Buck. As do we all.
And not that you asked, but I've got a really flat butt. Going forward, I'm going to assume that it — and not my lack of hand-eye coordination, speed, instincts, and upper body strength — is the reason why I never made it past the Babe Ruth league.