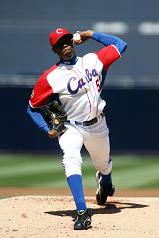 Missed this one the other day, but the Cincinnati Enquirer's Kat O'Brien reports on the efforts the Cuban government takes to erase from history those ballplayers who defect to the U.S.:
Another taxi driver, Jose, said: "When the players go, then we don't
have any more news about them." A waiter at the upscale Havana
restaurant La Piazza, whose walls are covered in baseball memorabilia,
said the restaurant has pictures only of Cuban players who did not
defect. In a low voice, he said there used to be a picture of Orlando
"El Duque" Hernandez, but it was taken down after a government official
grew upset.

In the eyes of Cuban government officials and police,
any player who defects is to be erased from memory.
Fellini once said that censorship is advertising paid for by the government. The people are not idiots. They won't forget about El Duque and Aroldis Chapman simply because the government bans their visages from public. Quite the opposite, actually. By trying to erase evidence of their existence Mr. Castro and Co. only make bigger legends out of them in the minds of the people and render ridiculous whatever shreds of credibility the regime may retain by accident or otherwise.