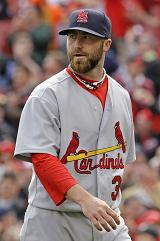 I spent the last 20 minutes reading Masters coverage in which sportswriters talk about how wonderful it is that Player X is leading Player Y because we know a lot about Player Y's sex life and disapprove of it.  Thank God for day baseball.
Best game of the early going today: Reds-Cardinals.  It was a pitcher's duel, with Bronson Arroyo and Brad Penny looking sharp. The former have up one run over eight innings, the latter one run over seven.  I am obligated to report that Bronson Arroyo "helped his own cause" by knocking in an RBI single, which means that this pitcher has been just as productive as the second richest team in baseball's designated hitter this season.
The kicker, though was Jonny Gomes hitting a homer to left in the bottom of the ninth off Jason Motte to end it. Jason Motte, by the way, throws really hard. Unfortunately he throws really straight and thus gives up a lot of home runs. He threw six straight hard ones to Gomes. Gomes is a dead-red hitter.  Maybe not the best matchup in the history of La Russaville.
Silver lining for Cardinals fans? Brad Penny. While the line score was nice, even nicer was the fact that he got 13 ground ball outs and only four fly ball outs. If that pattern holds, he's going to have a nice season.