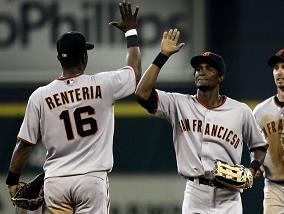 Giants 10, Astros 4: Edgar Renteria and Aaron Rowand combine to go 9 for 11 with four RBI. Nineteen hits in all for San Francisco, who pretty much abused the Astros for the past three days. And they didn't care how they looked doing it, as infielder Eugenio Velez took the field wearing a jersey that read "San Francicso"
Yankees 3, Red Sox 1: The Bosox got a great start from John Lackey (6
IP, 3 H, 0 ER), but he was nearly matched by Andy Pettitte. Der DifferenceMacher, however, was Chan Ho Park, who pitched three
scoreless innings in relief and was the pitcher of record when Curtis
Granderson hit a homer off John Papelbon in the 10th. No errors. Good
pitching. A game that, had it ended in regulation, would have come in
just under the three hour wire. I call this progress. Oh, and David
Ortiz had an RBI single, so the Boston press corps can go make up a new
drama du jour. May I suggest beating up on Jonathan Papelbon for a few
days or perhaps running a multi-part series about whether it's time to
start freaking out that Kevin Youkilis went hitless last night.
Blue Jays 7, Rangers 4: You know, if Vernon Wells keeps up his
.714/.778/2.000 line all year he may just make that contract
into a winner for the Blue Jays yet.  Wells hit his second and third
home run of the season in this one. Rich Harden was pretty atrocious for the
Rangers, leaving the game after two straight bases loaded walks. Ninety
pitches in less than four innings for The Man Who Would be Millwood.
Marlins 7, Mets 6: The Mets were down 6-1, but battled back in the
seventh and eighth to tie it at six. But they could have been ahead by
then if it wasn't for a Fernando Tatis brain fart. In the seventh the Mets were rallying and loaded the
bases with two out for David Wright. Tatis was on third. The
first pitch to Wright went wild and Tatis broke for home. Not wild
enough, however, as John Baker recovered, tossed the ball to Veras covering home and tagged Tatis out, ending the
rally and the inning. If anyone is curious to see how that is going over
with Mets fans this morning, I suggest you get on Twitter and search
for "Tatis."  Guy may want to enroll in the witness protection program
today.
Rays 4, Orioles 3: Matt Garza was pretty stingy, allowing only two runs
over eight innings, striking out nine and giving up only four hits. Evan
Longoria homered and drove in three. Rafael Soriano was shaky again but
got the save. But he wasn't the only former Braves closer that had
problems last night: word on the street is that Joe Boever got into a
fistfight while dining at Citizen
Kane's Steakhouse in Kirkwood, Missouri. Seems each time he asked
the waiter how much the Chicken Xanadu would set him back, the guy
responded by saying "Cost?! NO MAN CAN SAY!"  Frankly, I'm taking
Boever's side on this one, because that kind of garbage gets old really
quick.
Braves 3, Cubs 2: With the exception of an RBI double Jason Heyward absolutely ripped down the right field line in the second, Ryan Dempster and Sean Marshall handcuffed the Braves for seven innings, striking out 11 and keeping just about anyone else from hitting the ball with anything even resembling authority. That changed when John Grabow came in for the eighth and gave up a double to Martin Prado followed by a bomb on a 3-1 pitch to Chipper Jones. Billy Wagner came in for the ninth throwing pure gas, some totally unfair sliders and striking out the side for his first save since June of 2008. This was so totally a game the 2006-2009 Braves would have lost.
Cardinals 6, Reds 3: Johnny Cueto didn't let Albert Pujols hurt him — gave up a walk, struck him out and induced a fly ball — but the bullpen wasn't as lucky. Pujols hit an RBI single off something called Logan Ondrusek in the seventh, followed by an RBI double from Matt Holliday and an RBI single from David Freese, breaking a 2-2 tie and giving Adam Wainwright the victory. The Reds, obviously still stinging over the fact that they don't get the season's first game anymore, billed this one as "Opening Night" and ran multiple promotions for it. Not sure what's sadder: that they felt the need to do this or that it actually worked, drawing a pretty big crowd for a Wednesday night in the Queen City.
Phillies 8, Nationals 4: That's the thing about Jason Marquis: he takes the ball every fifth day, dadgummit, and that's what pros do. Sure, he gets lit up most of those days, but you can't question the heart of a competitor! Six runs on eight hits with three walks thrown in for flavor in the space of four innings last night, with the big blow being Ryan Howard's two-run homer in the fifth that should be due to clear Mongolian air space within the hour.  The Nats' rightfielder Mike Morse left the game with a leg injury in this one. Time to flash the Elijah Dukes signal, Commissioner Rizzo?
Pirates 4, Dodgers 3: Russ and Ramon Ortiz both pitched in this one for L.A. which is rather disorienting if you merely read the box scores like I do. Until I read more closely I had figured the Dodgers had cloned Russ for some reason. Ramon gets the loss here, though, giving up an RBI single to Ronny Cedeno in the bottom of the 10th. Five innings of shutout relief for the Buccos bullpen, by the way.
Indians 5, White Sox 3: Walking six guys in as many innings is no way to go through life, Fausto Carmona, but I suppose if you only give up one hit we'll let you off the hook. "Effectively wild?" "Lucky as hell?"  Doesn't matter. The Tribe won.
Brewers 5, Rockies 4: With the exception of some late pinch hitting, Todd Helton, Brad Hawpe and Chris Iannetta all got the day off. On day three of the season. And the Rockies lost by one. Someone tell me if we're still supposed to pretend that Jim Tracy is genius or if that was limited to last season. For Milwaukee, Jim Edmonds started again and went 2 for 4 with a double and a couple of runs and the bullpen — which is an obvious strength for the Brewers — held Colorado scoreless for five innings.
Royals 3, Tigers 2: I'm sure most Royals fans figured it was over when Kyle Farnsworth gave up a run in the top of the 11th to make it 2-1 Detroit, but Kansas City roared back in the bottom of the inning, scoring two off Jose Valverde on an Alberto Callaspo home run and a Rick Ankiel double (with the run scoring on a Scott Sizemore error). Farnsworth still gets the win, of course. Because he's a winner. And knows how to win. If Bert Blyleven had Farnsworth's kind of winnerness about him, he'd be in the Hall of Fame right now.
Diamondbacks 5, Padres 3: Kelly Johnson pays early dividends on the Dbacks' investment in him with two long home runs. "That happens sometimes when you're not thinking about trying to hit a
homer," Johnson said after the game. Kind of like messin' around and gettin' a triple double. Chris Young and Justin Upton also went deep. Another newcomer — Ian Kennedy — had some trouble in the second inning, giving up three runs, but struck out eight and allowed no runs in any of his other four innings.
Athletics 6, Mariners 5: This was the third nail-biter in a row for these two teams, with the score tied at five heading into the ninth before Kurt Suzuki's walkoff RBI double. Suzuki had also tied the game in the seventh with another RBI double. If he had one more he would have messed around and gotten a triple double. Um, OK, not as funny the second time, I realize that.  Justin Duchscherer made his first start since 2008, allowing five runs in five and two-thirds, but the A's bullpen blanked the M's over the rest of the game.
Twins 4, Angels 2: Carl Pavano was sharp (7 IP, 6 H, 1 ER, 6K) and made his way out of a couple of jams in the second and fourth innings. J.J. Harday and Morneau each went deep for the second straight night. Jon Rauch gave up a run and two hits in a save situation, but he has wicked neck tattoos, so it's all good.