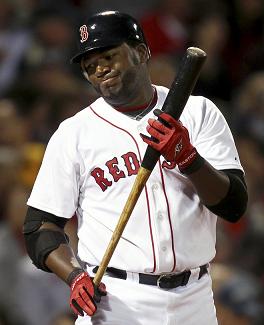 In the recaps I called the Sox-Yankees game "boring."  Upon reflection that was unfair. It wasn't a boring game. While not the most crisp affair imaginable, it was close and competitive and I shouldn't really be complaining. It was long, sometimes unnecessarily so, and that's really what I was reacting against. "Boring" was not the right choice of words, however.
What was interesting: Home plate umpire Angel Hernandez trying, in his own way, to move things along. On one occasion Derek Jeter asked for time and the ump refused to give it to him. Same with David Ortiz. When Oritz didn't get time called Jorge Posada and
A.J. Burnett got confused and called time themselves.  The announcers then
went on about how Major League Baseball is pushing umpires to move things along — especially in Sox-Yankees games — and that pitchers should just take advantage and just throw the ball there.
I'm sure this was discombobulating for the hitters — and since the game was still nearly four hours long it wasn't necessarily effective in this instance — but I hope the umps keep it up and impress upon hitters that there is really no need to spit on your batting gloves like Ortiz does or back out of the box and take that big deep breath Jeter does every time or chomp on your gum and squint like A-Rod and all that nonsense.
Get in there and swing, dammit.