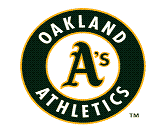 Three things occurred in the Bay Area yesterday:
Continued silence from Bud Selig's little committee about what will become of the Athletics;
I know Selig and Lew Wolff have some incentives to drag all this out — like, trying to buy some time during which they can figure out how to buy off the Giants and sucker the people of San Jose into thinking that they're not using public resources to benefit a rich real estate developer — but sometimes a mercy killing is the best route for the goodwill of the patient.  It's been over a year since it became clear to everyone that the A's were going to San Jose. Maybe it would have been best to get that ball rolling a while ago.