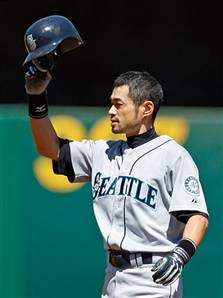 Stuff you don't think about very much: you have to have played in the majors for ten years to be eligible for the Hall of Fame. Doesn't come up too often of course because it's hard to imagine a nine-year career that would be worthy of discussion. I mean, sure, Lynn Jones may have his supporters, but it was always a stretch that he was going to be inducted. Freakin' politics.
An exception to this rule? Ichiro, who has seemed like he's been around forever, but only has nine full seasons under his belt. Monday marked the beginning of his tenth, and by the rules of the Hall of Fame, he is now eligible.  Rules that, were he hit by a bus over the winter, probably would have been changed because as people don't often realize, one woman and a small handful of people who know the value of good politics can simply change those rules if the mood strikes.* Thankfully that didn't have to happen, of course.
And yes, Ichiro is a Hall of Famer. Perhaps he's a bit overrated, but being overrated doesn't mean that you're not still pretty spectacular. It simply means that people overstate your contributions on occasion. Ichiro is pretty spectacular. And he's famous. And though he wasn't the first Japanese player in Major League Baseball history, as a position player he's still something of a groundbreaker. Even if you totally discount what he did in NPB — which you should not — he still makes the Hall of Fame in my book and I would hope everyone else's. Once you include his NPB accomplishments he's a first ballot guy.
But the point is now he can get hit by a bus if he wants to, because he's totally good to go.
*This is always what has bugged me about the Pete Rose thing. The reason he's not in the Hall of Fame is not because he's banned from baseball. The reason is that the Hall of Fame board has a rule that says if you're banned from baseball you can't be in the Hall of Fame. The board could, if it wanted, change the rule, decouple itself from baseball's ban list and induct Rose and Joe Jackson and whoever the hell it wanted to if it decided it wanted to be a museum of history instead of a political institution.
It won't because Bud Selig and Bob DuPuy and other baseball officials are on that board, but they could just do some Kabuki-theater abstention thing, let the board let Rose in and still be able to say that they're keeping the game safe from the gamblers.
And for the record, I'd still keep Rose banned because I don't think he should be near the competition of baseball games. But I do think that his historical contributions to the game should be reflected in the museum of record for Major League Baseball.