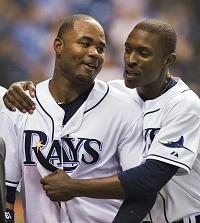 Rays 4, Orioles 3: Opening Day comes a day late for the Rays and Orioles. And only the Rays and Orioles. Why they didn't get to play on Monday when everyone else did is beyond me. Maybe there was a gun show or a regional numismatic convention scheduled for the Trop over the weekend and they needed Monday to staple down the turf or something.  No matter, because it was worth the wait for the Rays, as they beat up Baltimore's new closer Mike Gonzalez, who struck out Pat Burrell and then proceeded to give up a single, a double, intentionally walked a guy and then blew the game on a two-run single by Carl Crawford. That effort ended up wasting homers by Luke Scott, Adam Jones and Matt Weiters.  Rafael Soriano gets the win for the Rays despite allowing three base runners in his only inning of work. So basically, a decidedly "meh" night for former Braves closers. UPDATE: Word is now coming in that Gene Garber came up snake eyes while trying to hit on a waitress at Hoss's Steak and Sea in Elizabethtown, Pennsylvania last night as well, tipping the scale from "meh" to "ugh."
Yankees 6, Red Sox 4: Kind of a see-saw affair that ended with
the Yankees' pen working how they drew it up in the offseason: shutout
ball capped off by Joba and Mariano Rivera shutting the door. Four
innings of shutout ball, though, which is probably more than Joe Girardi
had wanted with A.J. Burnett on the mound, but Burnett wasn't exactly
efficient or effective in his five innings. The winning run came when a
Scutaro throwing error allowed Jeter to reach on what what would have been out
number three followed by a Nick Johnson walk with the bases loaded. Oh, and I'll stop mentioning that these guys play long and boring games when they stop playing long and boring games. This one: 3:48.

Giants 3, Astros 0: The 'Stros do worse against Barry Zito than they did against Lincecum. Zito had help, as five Giants pitchers combined for the shutout, but Barry handled six of those innings. Jeff Keppinger may have been robbed of a home run in the sixth when a ball he hit appeared to bounce off the yellow line on top of the left field wall yet was called a double by the umpires, who conferred for a bit after the play. I imagine the conversation went something like this:
Ump 1: Anyone see that?
Ump 2: I think it hit below the line.
Ump 1: You think or you know?
Ump 2: I, um, I can't say.
Ump 3: Man, if there were only some way we could see that again so we could get the call right.
Ump 4: Sadly, no. The means have not yet been invented. Hey: anyone want to share a carriage with me to the nickelodeon theatre after the game? I hear there's a humdinger of a moving picture playing. Then perhaps we can get hard candy, play ukuleles in canoes, and ride bicycles with giant front wheels while twirling our mustaches and singing jaunty tunes!
Umps 1, 2 and 3:  That sounds swell!
UPDATE: As many of you have noted in the comments — and as I completely missed — the umps did review Keppinger's hit as a boundary call, just like the rules call for. Most people think they still got the call wrong. And life goes on.  Glad I didn't realize this before I wrote the post because then I would have been deprived of writing the whole nickelodeon/big wheel bicycle sequence, and I had a lot of fun with that.
Brewers 7, Rockies 5: An unspectacular yet useful enough Brewers debut by Randy Wolf (6 IP, 9 H, 4 ER, 8K) was supported by Casey McGehee's three-run homer in the first inning which gave the Brew Crew a lead they would not relinquish. Greg Smith (5 IP, 4 H, 5 ER, 2 BB, 5 K, 2 HR) isn't anyone's idea of a number two starter and he didn't do anything to change anyone's mind about it.
Twins 5, Angels 3: Starting pitcher with new contract: check (Blackburn, 6 IP, 3 R, 8 H, 4 BB, 4K).  Franchise catcher with new contract: check (Mauer, two run HR). Unexpected new closer: check (Rauch, first save with 2Ks and no baserunners).
Athletics 2, Mariners 1: Don Wakamatsu, I love you and everything, but if you keep encapsulating everything that matters in pithy little postgame quotes like this, I'll be out of a job: "It's really the offense. From 4-9 we were 1 for 24 and that's the story
of this ballgame. The story comes down to not scoring runs. We scored
the one on a wild pitch and that was it." I'll merely add that it's a story that he should get used to. And it won't hold up to repeated readings like, say, Isaac Asimov's "Nightfall."
Padres 6, Diamondbacks 3: Chris Young's first start since last June 14th was quite the success (6 IP, 1 H, 0 ER, 5K). Which had to be galling for the Diamondbacks because Brandon Webb is coming off the same surgery Young had back in August and he can't even really throw yet.  Pfun Pfact: While Arizona's Chris Young hit an RBI double off of Luke Gregerson, he is 0 for 16 in his career against San Diego's
Chris Young. It's like having an arch nemesis doppleganger, but different.