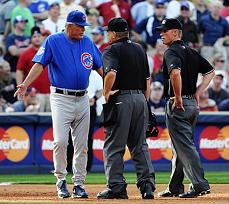 I've noticed a lot of great camera work in the first two days of the baseball season. That ESPN matrix-vision thing they used to show the double-steal on Sunday night was pretty spiffy. That Mark Buehrle gem was covered from a zillion angles. Also captured really well?  Nate McLouth having the ball pop out of his glove as he made a diving non-catch on Marlon Byrd's shot to center in the sixth inning of yesterday's Braves-Cubs game. There was an umpire huddle, but despite the fact that 53,000 fans in the ballpark could see the non-catch on the jumbotron and millions of viewers at home could see the same thing, the original call — out — held up.
I don't want Lou Piniella to be able to throw a beanbag out onto the field to challenge that, nor do the umpires or any right-thinking fans.  But how easy would it be to have umpire #5 — with his generously-sized tushy resting comfortably on an Aeron chair in front of a couple of TVs up in the press box — simply buzz the crew chief on his walkie-talkie, say "hey, I know it was easy for you to miss because it happened on the upstage side of McLouth's body, but the ball squirted out," and have the correct call made? It would have taken 11 seconds.
The umpires would get credit for making the right call. More importantly, the right call is made. Seems pretty obvious, doesn't it?