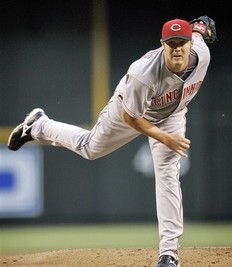 The Cincinnati Enquirer's Jon Fay points out that the Reds seemingly had the perfect chance to deploy their pinch-hitter/middle reliever Micah Owings in Monday's Opener. It had become clear during the top of the fifth that Aaron Harang wouldn't be coming back out for another inning, and his spot was due up to start the bottom of the inning. With the Reds down 4-2, it would have been a fine time to let Owings hit and then hopefully pitch a couple of innings.
Instead, the Reds chose to hit Miguel Cairo (who grounded out) and pitch Mike Lincoln (who allowed two runs in 1 1/3 innings). Owings ended up never appearing as a hitter or a pitcher in the 11-6 loss to the Cardinals.
Still, I'm not going to rail against Dusty Baker again here. Baker certainly could have gone to Owings off the bench, but the risk there is that he might not have been ready to pitch to start the sixth.
The right idea probably would have been to start warming him up when Harang let a couple of guys reach in the fifth. But then Owings would have had to come in from the pen to hit. If he made an out or homered, then everything like would have been fine, as he likely would have been left with at least another five minutes or so to complete his warmup. If he had reached base, though, the Reds almost certainly would have had to warm up another reliever to bring in to start the sixth and Owings would have been lost for the game.
It's a difficult situation, as Owings is still a pitcher first and a hitter second. The Brewers had some success with Brooks Kieschnick back in 2003 and '04, but he was thought of as a hitter first and then a pitcher. Kieschnick was involved in a decision just four times in 74 career relief appearances and three of those were extra-inning games.
Owings has more ability than Kieschnick did on the mound and probably at the plate as well. The Reds are going to rely on him a bunch in the sixth and seventh innings, particularly in situations like Monday when they're down by one or two runs.
Unfortunately, that means the offense is going to take a backseat, at least unless Owings fights his way back into the rotation at some point. Owings, who sports a .300/.331/.547 line with eight homers in 170 major league at-bats, will hit when his spot is due up, but it'll be an awful lot of trouble to try to arrange pinch-hitting appearances for him beforehand.